HTC One S: Hardware, Software, Release Date
HTC has been one of the more active companies at this year's Mobile World Congress. And for good reason. It's trying to start 2012 off on a good note after admitting that it's 2011 smartphone strategy was flawed. The company has promised better designed phones with improved battery life for 2012 and the company has seemingly delivered on that promise at this year's MWC.
The company's answer is the HTC One Series which includes a trio of smartphones.
The HTC One X, an Android 4.0 smartphone formerly known as the HTC Edge and HTC Endeavor that is destined for AT&T and international carriers.
The HTC One V, a mid-range device that will be headed to smaller carriers like MetroPCS, Virgin Mobile, and U.S. Cellular.
And finally, the HTC One S, which will be launching in the United States in the weeks ahead.
(Read: In-Depth Hands-On: HTC One X and Sense 4.0.)
We've already covered the HTC One X in great detail and now it's time to take a look at the HTC One S, which, while offering some the same high-end specs as the One X, boasts a smaller screen then the massive 4.7-inch one that its counterpart employs.
So, with that, let's take a closer look at the HTC One S.
Hardware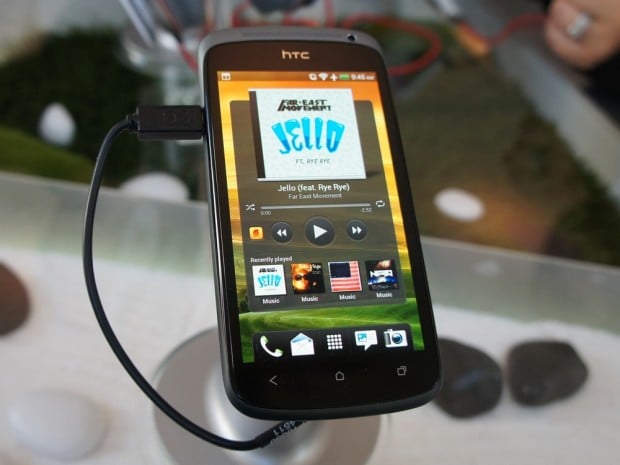 The HTC One S is going to check in with a 4.3-inch qHD Super AMOLED display, the same size as the display found on HTC's iconic HTC EVO 4G for Sprint. It's a great display size and it won't feel like you're carrying around a brick in your pockets.
That qHD resolution, which sits at 540 x 960 pixels, is less than the 720p display found on the HTC One X, but that doesn't mean it's terrible.
It's not.
It'll still provide rich colors and great viewing angles. It just won't be in 720p.
It's also going to have a 1650 mAH battery which will supply you with ample battery life, an 8 megapixel camera, a dual core 1.5 MHz Snapdragon processor – sorry, no quad-core here, Beats Audio, 1 GB DDR2 RAM to help with multitasking and gaming, and 16GB of on board storage.
Also included is an HDMI connector for TV-out.
The HTC One S, like the HTC One X, does not have a microSD card slot for expanded storage so you're stuck with the 16GB.
As for the One S' design, it checks in at 9.5mm thin, same as the One X, which makes it one of the thinnest smartphones that HTC has ever released. Its color scheme is also a shade darker then coloring found on the HTC One X.
Software
To go along with the HTC One S' very capable hardware is a very capable operating system called Android 4.0 Ice Cream Sandwich, Google's latest. Android 4.0 is a huge step up from Google's previous version of Android, Android 2.3 Gingerbread, and it figures to be one of the main selling points behind the One S.
(Read: Guide To Google Android 4.0 Ice Cream Sandwich.)
Android 4.0 won't be the only piece of software on board the One S though.
Like the other phones in the HTC One Series, the HTC One S will employ HTC's Sense 4.0 software, a user interfaced that is skinned over the top of Android 4.0.
And while we haven't yet seen a phone launch with Sense 4.0 over Android 4.0, we were able to get a peek at it when checking out HTC's new devices. You can see HTC Sense 4.0 in action on the One X in the video below.
Sense 4.0 is arguably the best user interface that comes with Android with Samsung's TouchWiz UI coming in a close second. And Sense 4.0 might just be the best version of the software yet.
It's going to be coming with improvements to the usual Sense widgets like Clock and Weather and it's also going to add a new app drawer and several other management tools that will help you better organize your phone.
Release Date
Unfortunately, HTC has not given any specific dates for the HTC One S but we do know that it will be headed to T-Mobile USA in the spring which means it will likely be replacing the HTC Sensation 4G.
Of course, the One S won't have the 4G LTE capabilities that are found on AT&T's One X, but it will have support for T-Mobile's HSPA+ 42 network which is the best that the Magenta carrier has to offer.
So those of you who are looking to get a new, high-end smartphone on T-Mobile's best network are going to have to wait until March, April, May or June to get this device.
Our guess?
March or April.
Pricing
Like the release date, pricing of the HTC One S remains a complete and utter mystery. However, we can make an educated guess based on T-Mobile's previous launches.
When the Samsung Galaxy S II arrived on the carrier's HSPA+ network back in October, it was priced at $229.99 with the signing of a new two year contract. We don't see T-Mobile pushing the price of the HTC One S past this.
In fact, it might even offer it at $199.99 in order to better position it amongst the rest of the Android crowd.
Pair that price with one of the cheapest data plans in the land and you have a device that is definitely worth considering.