Three Reasons HTC One is the Best Option for Disappointed iPhone Fans
As iPhone users sit and wait for Apple to get their act together with the iOS updates causing errors, and still more anxiously wait for the iPhone 5s and iPhone 5c to launch on Friday, I'm pleased I picked up an HTC One instead of waiting for the new iPhones.
Don't get me wrong, the iPhone 5s looks like an awesome phone and the iPhone 5 served me well for a year. It's colorful sibling, the iPhone 5c, will do the same for those who pick it. I just want different things than Apple's willing to give me.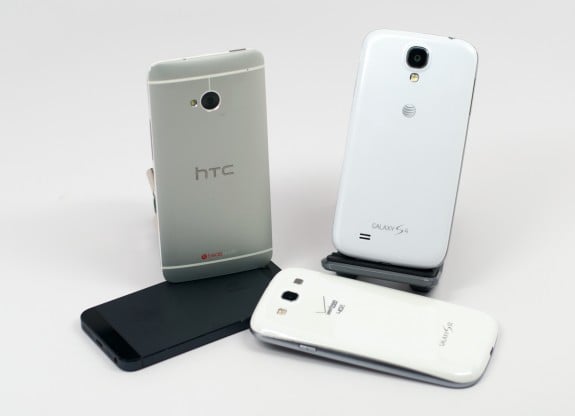 HTC One Hardware As Good or Better than iPhone or Galaxy S4
For a long time Apple won the crown for handset hardware quality. When HTC launched the HTC One, they challenged Apple with a phone that appeals to iPhone users. The metal frame feels great in the hand.
HTC also hit the sweet spot in screen size. The 4.7-inch display isn't too big like the Samsung phones, but it's bigger than the iPhone's screen. Apple made it too narrow for some users.
We love the display quality and the excellent front facing speakers that beat out the competition thanks to Beats Audio.
HTC One and Android Customizations
After owning an iPhone since the iPhone 3G, and Samsung products (including the original Note, 3S and 4S) making the switch to HTC Sense took patience. I wasn't crazy about Blink Feed so I installed Nova Launcher, with a stock Android 4.3 looking user interface.
iPhone users can't do this unless they jailbreak. They can only pick iOS 6 or iOS 7. Disappointed iPhone fans will love customizing the user interface.
Get Control Center on HTC One
I hated some aspects of iOS 7, but love the new Control Center because it gives users access to important settings, like Samsung's TouchWiz pull down notification area. I installed an awesome free utility called Control Center for Android, which mimics the iOS 7 Control Center with a pull up menu of settings and an app launcher.
Conclusion
The back of the HTC One scratches too easily. HTC and AT&T put too much crapware on the phone. Users need to add widgets or utilities to get some of the features built into the competition, like Control Center on iPhone or Samsung TouchWiz notification center. The offset micro-USB port makes our "Universal" micro-USB dock and car holder useless for charging the device. So, the HTC One's not perfect.
True iPhone lovers should stick with what they love. People with simple needs and should likely pick an iPhone too, but iPhone users who want more control over the OS and a bigger display should look at the HTC One. It gives owners the best of both worlds in one device. It launched a couple of months ago, but still offers the best solution for disappointed iPhone users who want a change.

This article may contain affiliate links. Click here for more details.