HTC One X All But Confirmed for Sprint
While we had held out hope that HTC and Sprint might introduce a 4G LTE device under the EVO umbrella at their joint event on April 4th, it looks all but certain that the device that will actually be announced is the HTC One X aka HTC Jet. That's because HTC France has posted details about an event that will take place on April 5th, one day after the event in New York City.
Of course, this could just be a complete coincidence, but somehow, we doubt it.
There are just too many signs that suggest that the HTC Jet will be the device shown off at the event. And if we're making it out to be a bad thing, it's not. The One X/Jet is an extremely solid device and one that will be headed to AT&T's 4G LTE network in the days ahead.
You can get a good feel for the phone in the video below:
We have heard that Sprint and HTC plan to release the device at some point in June and that it will run on Sprint's upcoming 4G LTE network.
That high-speed network is rumored for launch at some point in April as the carrier's first 4G LTE smartphone, the Samsung Galaxy Nexus, is pegged for an April 15th release date.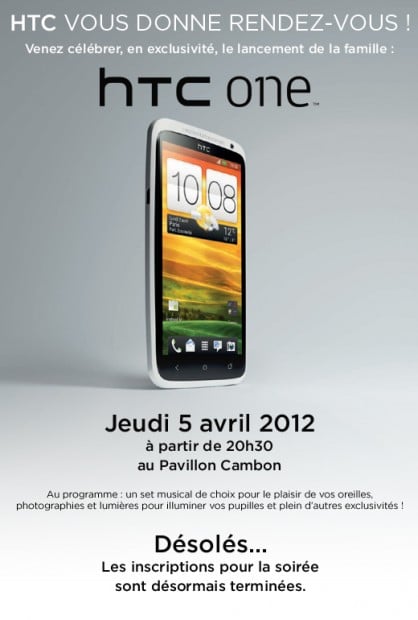 Like AT&T's device, Sprint's One X is rumored to have ditched the Tegra 3 quad-core processor found on the international model in favor of the Samsung S4 processor which is dual-core in nature.
It'll likely also have 1 GB RAM, a 4.7-inch Super LCD 720p HD display, and support for NFC which means support for Google Wallet.
We'll be at the event on April 4th so be sure to tune in for the announcement.
Via: Facebook

As an Amazon Associate I earn from qualifying purchases.