HTC One X Android 4.0 Smartphone Gets Fully Detailed
We've heard a lot about what HTC may have planned for the upcoming Mobile World Congress in Barcelona and one of the devices that figures to be at the forefront of those plans is a device called the HTC Edge/HTC Endeavor/HTC One X that will very likely be the Taiwanese company's first smartphone with a quad-core processor on board. And while we're pretty sure we have a handle on its features, MoDoCo has leaked out some additional ones today.
Before we get to the new, let's run down what we already know.
In addition to NVIDIA's 1.5 GHz Tegra 3 quad-core processor that's said to be on board, the device is also rumored to sport a 4.7-inch 720p SuperLCD display, 32GB of storage, an 1800 mAh battery, 1GB of RAM, an 8MP camera, and a 1.3MP camera in the front for video chat purposes.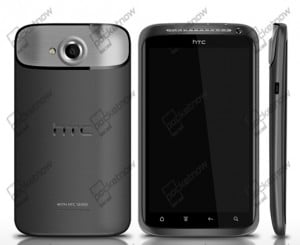 It also will likely be running Google's Android 4.0 Ice Cream Sandwich operating system with HTC's HTC Sense 4.0 user interface over the top.
(Read: Guide To Google Android 4.0 Ice Cream Sandwich.)
The HTC One X probably won't be a 4G LTE smartphone as it will instead feature a radio meant to be used on HSDPA or HSUPA networks. This had led us to believe that it may launch on either AT&T or T-Mobile here in the United States.
This latest report adds to all of that.
The HTC One X will evidently have on-screen navigation buttons instead of the usual raised buttons on the device's bezel. This is a feature that we've seen on the Samsung Galaxy Nexus and something that will become more prominent as more and more Android 4.0 devices are released.
(Read: Galaxy Nexus Review.)
Instead, the only buttons of the HTC One X will be the power button and the volume rocker.
It will also include Beats Audio, as expected, and it will supposedly ship with a pair of Beats headphones. There will apparently be Beats branding on the device as well. And it also looks like the One X will arrive with a pin-setup for a speaker dock, a dock that might just be Beats in nature as well.
And while all of that is fantastic, there is something that might frustrate those of you interested in the phone. It's rumored not to include a microSD card slot for expanded storage space. This is something we saw on the Galaxy Nexus as well and it appears that the One X will lack it as well.
All in all, it's shaping up to be a pretty interesting device and we should know more about it once Mobile World Congress kicks off on February 27th.