HTC One X Details, Review & Hands-On Video Roundup
The HTC One X was originally announced back at the Mobile World Congress 2012 alongside its HTC One Series counterparts, the HTC One S and the HTC One V. The device not only is HTC's first flagship smartphone release of the year but the international version of the phone is also the company's first quad-core smartphone.
Besides a quad-core processor, the device features an extremely thin design – a design style that was not found on previous releases, a high-resolution display, and a camera that can stand up to the iPhone 4S' in some environments.
And while the international version represents HTC's first quad-core offering, the device that gets released in the United States will be dual-core in nature. Instead of a Tegra 3 quad-core processor, the American model will have a Snapdragon S4 dual-core processor powering it.
There is a reason for this.
Read: In-Depth Hands-On: HTC One X and Sense 4.0 (Video).
It's because the AT&T model, unlike the international variant, will be 4G LTE in nature. Meaning, it will offer data speeds that can get up to 10 times faster than data speeds found on your typical 3G network.
Other than the processor difference, the phones are the same.
And Luckily, for those that are thinking about getting it on AT&T, the international version launched today and we already have some reviews and videos to look through, reviews and videos that will help those in the United States come to a better decision about the device.
So, while we are going to roundup as many reviews and hands-on videos as we can find, we also figured we'd tell you a little bit about the device that HTC hopes will set it on the right path for 2012.
What is the HTC One X?
The HTC One X is HTC's latest flagship smartphone. It's going to come with a massive 4.7-inch Super LCD2 capacitive touchscreen which boasts 720 x 1280 resolution. This is a massive display, bigger even than the screen found on the Samsung Galaxy Nexus.
The screen also features Gorilla Glass.
As we said, the processor inside the One X is dependent upon the region. The international model boasts NVIDIA's new Tegra 3 quad-core chip while the 4G LTE version, the one headed to AT&T, will have a dual-core Snapdragon S4 processor inside.
The HTC One X is also HTC's first phone to feature Android 4.0 Ice Cream Sandwich out of the box. Android 40 is Google's latest and greatest piece of mobile software and it's software that has yet to show up for many current Android phones.
Read: Guide to Android 4.0 Ice Cream Sandwich.
Other Key Features
HTC Sense 4.0: HTC Sense 4.0 is HTC's latest user interface and the HTC One X is the first device to arrive with it. The UI brings a number of improvements over the previous versions of HTC Sense and you can check them out in the video below:
Fantastic Camera: HTC has been trying to improve the cameras on its phones in an effort to stand out from the sub-par cameras found across Android and it starts with the HTC One X's camera which is an 8-megapixel camera w/ AF and LED flash. It matched up well against the fantastic camera on the iPhone 4S.
NFC: The HTC One X will have a Near-Field Communication chip which means it can be used as a mobile wallet.
Release Date
The HTC One was released today, April 4th, in select parts of Europe.
As for the American release, it's currently unclear when AT&T will be launching its 4G LTE version of the phone.
We had heard that April 22nd might be the day that AT&T gets it out onto shelves but a document has surfaced indicating that AT&T may have pushed back the launch to May 5th.
Review Videos
Chris Ziegler of The Verge, in his video review, calls the HTC One X one of the best designed phones that he's ever used.
—
MobileBurn has an extensive, 30 minute long video review that covers every single HTC One X detail that you can think of.
—
And, last but not least, we have Phil Nickinson from Android Central who sums up his thoughts in a quick but very informative video.
Review Roundup
So now that you've checked out a few of the videos, let's take a look at what people are saying about the HTC One X. So far, the reviews, for the most part, have been extremely positive.
Early reviews seem indicate that HTC has cooked up winning hardware but that the software, namely HTC Sense, brings the whole package down from where it would be if it had stock Android.
Remember, both the reviews and the video above pertain to the international version. The AT&T model won't be out for a few weeks at least.
Phil Nickinson from Android Central:
The leader of the next-generation HTC One series of smartphones has been a breeze to use…HTC easily has a winner in the One X.
Chris Ziegler from The Verge:
Just give me a One X running something closer to stock Android 4.0, HTC, and I believe you've got the best smartphone ever made.
Chris Hall from Pocket-lint:
The HTC One X is an excellent and fitting flagship handset. It's a great smartphone to live with: a cleaner, fresher HTC experience, packed into a device with the power to impress and a design that will turn heads.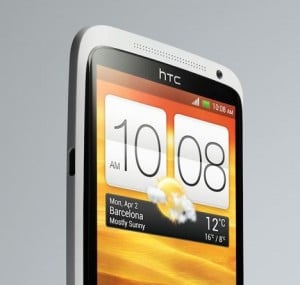 Michael Oryl from MobileBurn:
The HTC One X is easily my favorite phone on the market today. Even Samsung's Google Galaxy Nexus pales in comparison in my eyes. The sexy hardware design, the updated Sense 4 user interface, and the amazing camera team up with blazing performance to make the One X an unstoppable force of nature that I simply must have in my hand.
Vincent Nguyen from Android Community:
It's too soon to say whether the Galaxy S III and iPhone 5 will prove the One X's undoing, but one thing is for sure: HTC has thrown down the gauntlet with its new flagship, and the One X sets the bar high.
Ray S. from PhoneArena:
However, when you delve deeper is when you begin to encounter its imperfections, most of which are software-related. We appreciate the fact that the manufacturer has simplified the Sense UI and has worked a lot to improve certain aspects of the device, but the final result is still not quite there.
Specs
| | |
| --- | --- |
| Processor: | 1.5GHz Tegra 3 processor/Qualcomm Snapdragon for LTE model |
| Operating system: | Android 4.0 with HTC Sense 4.0 |
| Display: | 4.7-inch Super LCD2 capacitive touchscreen (720 x 1280) |
| Camera: | 8-megapixel camera w/ AF and LED flash, 1.3 MP front facing camera |
| Memory: | 1GB RAM, 32GB of internal storage |
| WLAN: | 802.11b, 802.11g, 802.11n Wi-Fi |
| Bluetooth: | Bluetooth v4.0 w/ A2DP |
| RAM | 1GB |
| Battery: | 1800mAh battery |
| Special features: | LTE model, NFC, Beats Audio |

As an Amazon Associate I earn from qualifying purchases.