HTC One X Launch for AT&T Delayed According to Best Buy Email
According to an email from Best Buy to a U.S. customer who had pre-ordered the AT&T LTE version of the HTC One X smartphone with Qualcomm's dual-core Snapdragon S4 processor, the device's launch date may have been postponed. Originally rumored for a launch on April 22nd, Best Buy's email advises the customer that 'the new release date is 05/05/2012' for the smartphone.
The One X is still not showing up on Best Buy's website despite a SKU being given on the advisory email. However, Best Buy's site advises customers to come into retail stores to reserve a One X.
The official launch date for the HTC One X has still not been announced by AT&T nor HTC. It's unclear if Best Buy has accurate information being a retail partner or if the company is jumping the gun a bit early.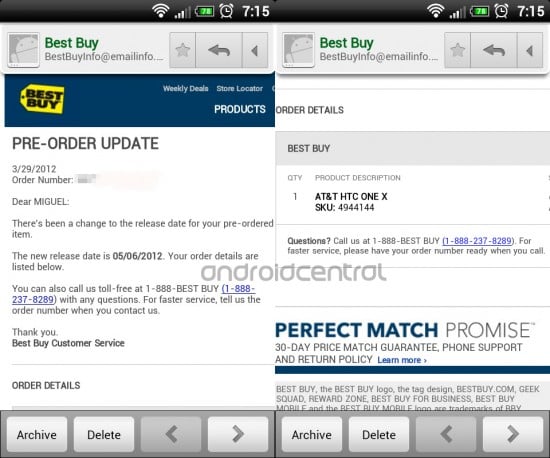 The HTC One X was originally announced a month ago at Mobile World Congress as HTC's flagship smartphone. The company is going for a unified product line under the One series and the One X has an improved camera system, large 4.7-inch HD display, and is one of several phones announced at the trade show to bear a quad-core Tegra 3 architecture from NVIDIA. The U.S. version will eschew the Tegra 3 chipset in favor of a powerful Snapdragon S4 chipset as Tegra 3 was not certified for use with LTE at the time of the One X's announcement.
If users are interested in the One X, they can go to Best Buy retail stores to pre-order at this time.
The One X is also rumored to be coming as the HTC EVO One for Sprint's new 4G LTE network in the U.S.
Via: Android Central

As an Amazon Associate I earn from qualifying purchases.