HTC One X Review | $199 AT&T 4G LTE
HTC hopes to regain their King of the Hill status in the realm of Android smartphones with the One series, and the HTC One X is the flagship of the line. Featuring LTE speeds, a robust processor, a great camera plus a really good audio experience, the One X has what it takes to be a fabulous phone.
HTC hopes to regain their King of the Hill status in the realm of Android smartphones with the One series, and the HTC One X is the flagship of the line. Featuring LTE speeds, a robust processor, a great camera plus a really good audio experience, the One X has what it takes to be a fabulous phone.
Unfortunately, some of HTC's old problems rear their ugly heads again. Remember the original Evo 4G's poor battery life? Welcome back to that. And the HTC Thunderbolt's heat issues? Deja vu.
Despite the battery thing, the HTC Evo went on to become super popular. This proves that as long as a smartphone hits all the other ticky boxes for greatness hard enough, customers are willing to ignore or find ways around the other issues. Will that be the case with the HTC One X?
It definitely scores high on the good stuff, including just being a great looking device. Read on to find out whether you should be at your local AT&T store on May 6th when this bad boy finally hits shelves.
Pros

Beautiful, large pixel dense display
Light and comfortable to hold
Good cameras

Cons

Short battery life
Gets noticeably hot
No microSD card slot
Battery not user replaceable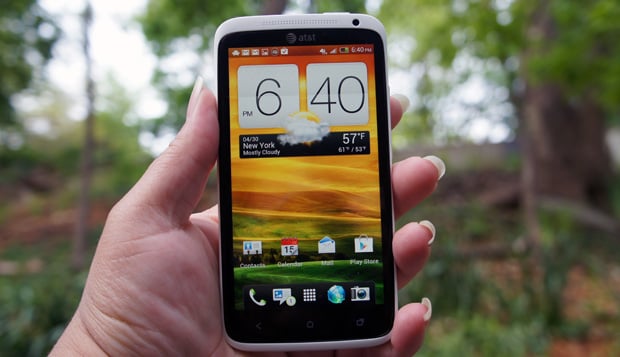 HTC One X | $199 | AT&T

HTC One X Review Guide

Related HTC One X Review Articles

Buy the HTC One X

[amazon_link id="B007UOIVAU" target="_blank" container="" container_class="" ]$149 at Amazon[/amazon_link]
Hands On Video
Design
Though the One X has a 4.7-inch display, the phone doesn't really feel massive unless you sit it next to smaller handsets. You won't get the same WHAT IS THAT?! reaction that Galaxy Note owners have to deal with every time they show their phone in public.
The streamlined design minimizes the 5.3 x 2.8 inch size somewhat, and the thin 0.36-inch profile helps the One X look svelte even with the big screen dominating the front. The edges don't have the smooth, straightforward curve of the HTC One S from T-Mobile, instead opting for a cut that creates a flat edge for the ports and buttons. This doesn't make the phone less holdable; the tactile experience is somewhat different.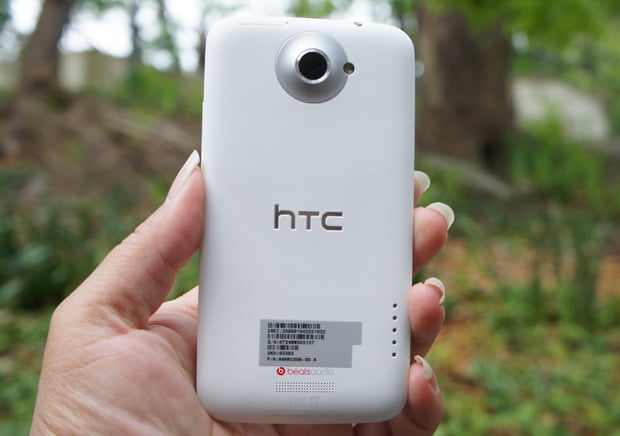 In addition to being thin, the One X is also light, weighing just 4.6 ounces. It's not so light that it feels like it will slip from your hands. Instead, it feels just substantive enough for sturdiness while not giving off the big phone vibe.
The unibody shell of the AT&T version is made of a polycarbonate material that does feel plastic, but not cheap. It's available in dark grey and all white for those who enjoy a phone with a color that will stand out. The unibody design has several implications, the main one being that the 1800 mAh battery is not removable. There's also no microSD card slot, which means you're stuck with the 16GB of internal storage.

This size is plenty big enough even for app fiends, but does mean that users will probably want to keep the bulk of their pictures, video and music in the cloud. That's pretty easy these days, especially with the free 25GB of DropBox space you get with the phone.
Around back the 8MP camera lens is raised and ringed in chrome, which goes along with HTC's emphasis on photography in the One line. Sadly, the protruding lens may mean it will scratch much easier than the average phone camera.
On the bottom right side are five gold contacts that serve as wireless docking connectors for HTC accessories. A microUSB on the left is the only other connection port.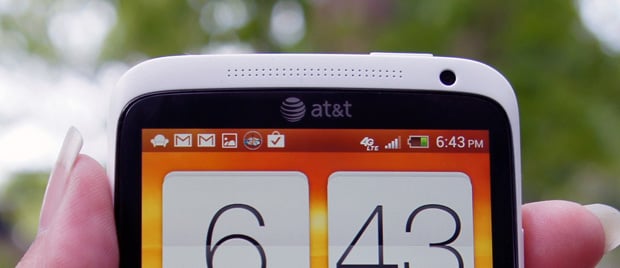 On the front HTC keeps it simple, as always. The device's LED notification light sits behind the earpiece grill on top, invisible when inactive. The 1.3MP front-facing camera is easily visible next to the grill.
HTC chose to keep the capacitive buttons on the One series phones even though they all ship with Android 4.0 Ice Cream Sandwich (which incorporates these buttons into the operating system, eliminating the need for them). Instead of Home, Menu, Back and Search users get Back, Home and Recent Apps.
HTC One X Display
The design of the One X does everything to minimize how big the phone is so that you won't pass it up just because of the large 4.7-inch Super LCD display. So, is the screen worth it?
Yes.
To start, it's a really beautiful display and boasts rich colors and true blacks. Plus, HTC didn't just up the screen size and leave the resolution at average. Users get 1280 x 720 pixels for a pixel density of 312ppi. This is pretty close to the "Retina Display" pixel density of 326ppi on the iPhone 4S, yet you get to enjoy it on a much bigger canvas.
The result is that text remains crisp even at small font sizes and watching HD video or looking at the pictures taken with the rear-facing camera in the gallery is a pleasure.
The Super LCD technology offers wide viewing angles and excellent performance in the sunlight. With the display left on automatic brightness I was able to view the phone out in the sun with no problems, even when it got really bright.
HTC Sense 4, Ice Cream Sandwich and Apps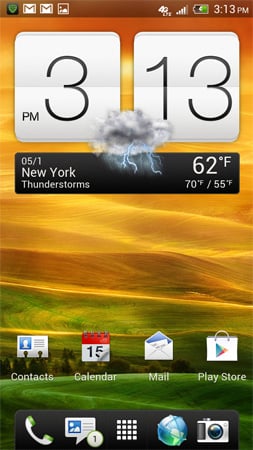 The One X runs on Android 4.0 (Ice Cream Sandwich) with the HTC Sense 4 skin/user interface on top. Sense is one of the most extensive skins for Android devices right now, which is either a good or a terrible feature depending on your point of view.
True fans of stock Android won't dig the experience on the One X. Not only does Sense change the look of the operating system, it actually tweaks some of the core functionality.
The saving grace is that though Sense is all up in your face, it's there in a good way. Sense aims to make using Android a smoother experience. It does so by putting the functions and features you like just one or two taps away or by streamlining the process of personalizing your Android experience.
For example, Ice Cream Sandwich changed the way users access widgets to put on the Home screen. Instead of tapping and holding on a blank space on a Home screen, you choose a widget from the App drawer. Apparently the devs at HTC don't like this, so they reinstated the tap and hold function and hid the widget browser in the app drawer.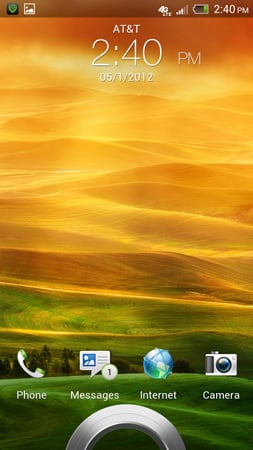 I'm a big fan of the Lock screen on HTC Sense since users can personalize which apps show up there. To quickly launch from the Lock screen, simply drag the app into the ring.
Thanks to the internal specs, Sense doesn't slow Android down the way some skins can.
As mentioned above, HTC opted to keep hardware buttons instead of going with on-screen Home, Menu and Recent Apps buttons in stock ICS. People who are as against buttons as Google will not appreciate this change. People like me who prefer physical buttons will be happy with it.
The only drawback is that HTC leaves off the Menu button. Instead, the three vertical dots that indicate Menu functionality appear, usually at the bottom of the screen, when applicable. Eventually developers will re-code their apps to get rid of this type of Menu functionality, but until then we're left with a less than perfect solution.
Aside from the usual core Google apps there are some standard HTC apps as well. I'm a fan of the souped-up Clock app, Friend Stream (ties together multiple social networks), Notes (hooks up to Evernote), the Car Dock interface, HTC Watch, and Flashlight.
The HTC Hub is also on board, providing an (unnecessary) second app market as well as a place to download more HTC personalizations like themes.
AT&T doesn't load too many of their own apps on-board, and those they do are generally useful.
ReadyToGo helps users new to Android set up their phones via their computers. There's also a Device Help app. AT&T Family Map is a useful tool for parents to keep track of where everyone on the family plan is, location-wise. And My AT&T connects to your account, letting you know how many minutes, texts or megabytes of data you've used to far plus other account information and services.
AT&T Navigator costs extra to use and doesn't offer much of a premium over Google Maps/Navigation. And AT&T U-verse TV has some okay content, though most users can satisfy these needs via Netflix or Google Play Movies.
HTC One X Performance
One of the biggest differences between the AT&T and International versions of the HTC One X is that the American model comes with a 1.5GHz dual-core Snapdragon S4 processor inside, not a quad-core Nvidia Tegra 3 CPU. HTC says that the reason for this is that the Tegra 3 chip wasn't compatible with LTE radios at the time of manufacturing. Regardless of the reason, it's a major let down for people who want the speediest phone.
Will having a dual-core phone affect most users all that much? Probably not. With the Snapdragon CPU inside the One X is nice and speedy. Whether swiping through the interface, opening apps, or playing games like Temple Run or Grand Theft Auto III, the phone didn't show signs of lagging or struggling. Even HTC Sense didn't slow it down.
Multitasking also didn't appear to have an adverse affect on the phone. Even with over 15 apps open or running in the background the handset behaved the same.
Down the road more resource-intensive apps will come along to take advantage of the quad-core phones of the near future, but the majority of these will be games.
On AT&T's 4G LTE network, the One X averaged 11.72 Mbps down and 9.53 Mbps up as measured by the Speedtest.net app. The speediest download time I saw was 25.67 Mbps, but most results hovered around the average. This is slower than the Galaxy Note on the same network, which saw an average of 19.4 Mbps down and 11.1 Mbps up.
The back of the One X gets noticeably hot when charging, when the LTE radio is pulling down a lot of data (such as downloading MP3s from Google Music), and when working hard (such as when playing games). Not so hot as to be dangerous, but enough that it's cause for concern.
HTC One X Battery Life
Combine a large display with a powerful processor and an LTE radio and what do you get? Battery drain. It's an unfortunate fact and one that anybody shopping for a big phone has to take into consideration. Still, the 1800mAh battery doesn't seem quite enough for the One X.
In my first couple of days with the smartphone the battery only lasted between 6 and 8 hours with light to medium usage (LTE on, Wi-Fi off). On the third day I used minimal Wi-Fi, listened to music and made a 40 minute phone call. This drained the battery very fast, resulting in the phone getting down to 4% in less than 6 hours. The fourth day I experienced the same without a long phone call to drain things: I got down to 4% in a little less than 6 hours.
The display is the biggest power hog, but it's possible to mitigate this by manually keeping the brightness low. Inside, I would keep it below 20% without any loss of quality. As with any LTE smartphone, keeping the Wi-Fi connected whenever possible also helps with battery life.
Call Quality
When making calls I heard voices on the other end clearly via the earpiece and with a headset connected. Callers reported that my voice also came through clearly and that background noise didn't drown me out, even when I stood on a noisy NYC street.
The speaker on the back pumps loud volume for both hands-free calls and music.
Beats Audio and Music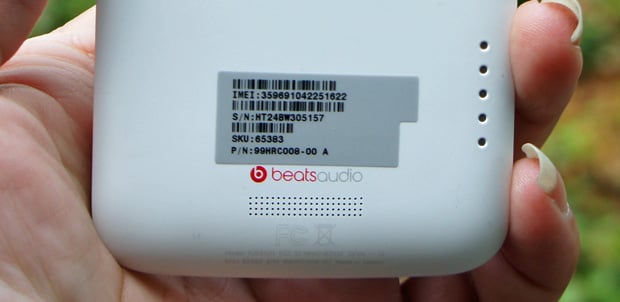 HTC's partnership with Beats Audio means a pleasant and noticeably better aural experience on the HTC One X over phones with average audio quality.
The Beats enhancements only kick in with headphones, but they now turn on whenever media audio plays. This includes games and video in addition to any music app. Gone is the odd restriction we saw on the HTC Rezound.
Audio quality is nice and full both on the top and bottom, though there is a definite favoring of bass. Not a surprise, given the history of Beats Audio. While these enhancements may still be nothing more than fine-tuned equalizer settings, those of us who don't know how to tweak an EQ appreciate the phone doing the work for us.
Google Play Music, MOG, TuneIn Radio and SoundHound are all pre-loaded on the One X so that users can get right down to the business of listening to music. The HTC Music app is more than just the stock player with a good skin. It serves as a hub for all music apps — users can add their own — and the music users have on their device.
Unfortunately, with only 16GB of internal storage, music lovers won't be able to store a large library on the One X.
HTC One X Cameras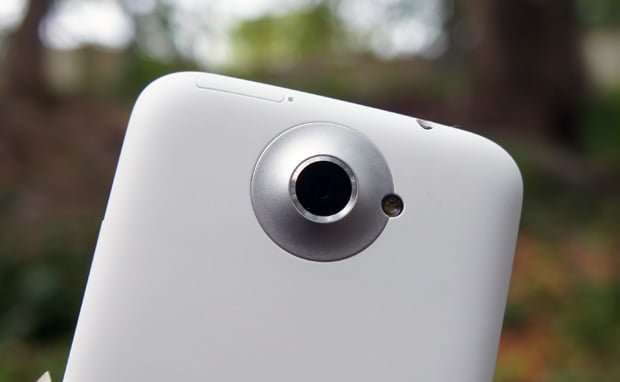 Alongside HTC Sense 4 and Beats Audio, HTC also emphasizes the great camera experience on the One series. The One X's rear-facing 8MP f/2.0 camera aims to be good enough that you can leave even a fancy point and shoot at home. The camera itself is backed by an app that offers dozens of settings and features plus editing for images after you shoot them.
Outdoors in good lighting the camera takes beautiful pictures. And thanks to different modes, including HDR, close-up/macro and low light, it is possible to get better than average pictures under these conditions. The images won't be very sharp, especially when you get into details, but they do offer a good balance of color, light and shadow.
Indoor performance isn't all that impressive. This is due, in part, to how light the camera is, making it hard to keep it still when taking pictures. The shutter is very fast, especially when no flash is involved. So pictures don't always come out sharp or in-focus. When they do, the quality is all right, but not great.
The front-facing camera takes decent, light-filled images and delivers a not too noisy result when video chatting over Google+.
Is the HTC One X Worth $199?
The HTC One X's biggest competition on AT&T (literally) is the $299 Samsung Galaxy Note. Both phones are larger than average, but the One X still manages to feel like a normal phone despite the size whereas the Note feels like a hybrid device.
The $199 iPhone 4S has a slightly higher pixel density, but can't match the One X on speed. However, you'll get better battery life from Apple's phone.
The bottom line is that the HTC One X is a speedy, beautiful phone with a great display and a camera that should satisfy most average shutterbugs. And, thanks to the inclusion of Beats Audio, there are compelling reasons to leave the separate MP3 player at home. Ice Cream Sandwich and Sense 4 work pretty well together to boot.
However, the heat issue and the short battery life are both big drawbacks.
If neither of those things deter you, HTC offers quite a bit of fancy phone for just $199.
Gallery

As an Amazon Associate I earn from qualifying purchases.