HTC: Puccini 4G Tablet Launching in September or October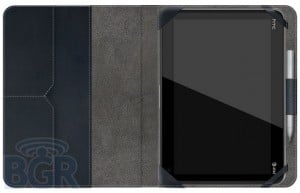 HTC's chief financial officer has unofficially confirmed that the company's debut 10-inch Android Honeycomb slate will be launching sometime in the September or October time frame. The HTC Puccini was originally believed to be a 4G LTE slate that will be a larger version of the HTC Flyer or HTC EVO View 4G 7-inch tablet for Sprint, but given the earlier than anticipated launch, the device could be an HSPA+ tablet for AT&T's network. While AT&T had earlier confirmed that its dual-mode 4G HSPA+/LTE devices will launch ahead of the carrier's 4G LTE network launch, the Puccini could very well be a dual-mode HSPA+ and LTE device, utilizing the faster LTE network when and where available and falling back to 4G HSPA+ speeds with a theoretical 14.4 Mbps max where LTE is not yet deployed by AT&T.
Unlike many other Honeycomb tablets on the market, the HTC Puccini will attempt to differentiate itself by supporting an active digitizer pen which would allow its users to more accurately write, draw, and doodle on the tablet's display. The tablet, like other Android devices, will support a multi-touch capacitive touchscreen panel as well.
It is speculated that the device will have a 1.5 GHz processor and an 8-megapixel rear camera along with a front-facing camera.
The tablet was previously rumored to be announced by HTC at the beginning of September. Given the company's CFO's confirmation of a September or October launch, an announcement at the beginning of September could still be likely, with the Puccini being made for public purchase later in the month or in the following month.
Via: BGR