HTC Puccini Tablet to Hit AT&T as HTC Jetstream?
We knew that the name HTC Puccini would not be the final retail name for HTC's upcoming 10-inch 4G LTE tablet for AT&T and now, finally, we have a pretty good lead on what the name of the device will be. Pocketnow is reporting that the device will be called the HTC Jetstream when it arrives and the screenshots they have procured confirm that this will indeed have "true" 4G capabilities. Meaning, 4G LTE.
The HTC Jetstream/Puccini is rumored to be getting announced on September 1st and  will likely feature a 10-inch display rocking 1280×800 resolution, Android 3.0 Honeycomb and it a 1.5GHz dual-core Snapdragon when it does arrive. It should also have the same HTC Scribe technology that we know and love from the HTC Flyer.
As for a launch date, AT&T has yet to roll out its network and will be introducing its first 4G LTE powered devices on August 21st without a network to back them up.
That means that if the Jetstream is indeed announced on the 1st, it probably won't launch until later on this year when AT&T's network has moved beyond the initial five launch cities.  Remember, AT&T mentioned that it has at least one 4G LTE smartphone in the pipeline for 2011 but it has not said the same about a tablet.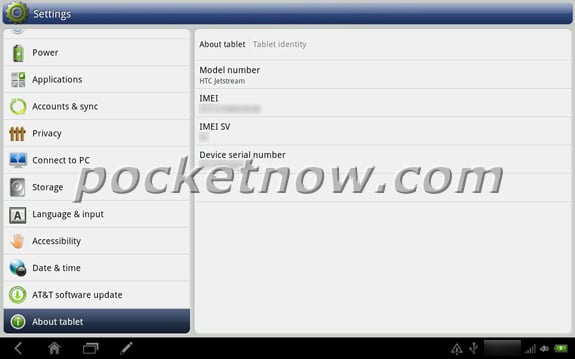 HTC Jetstream. Has a nice ring to it, right?

As an Amazon Associate I earn from qualifying purchases.