HTC Pyramid Headed to France In May
According to a report from Frandroid, the HTC Pyramid will be headed to French carrier SFR by the 'end of May.'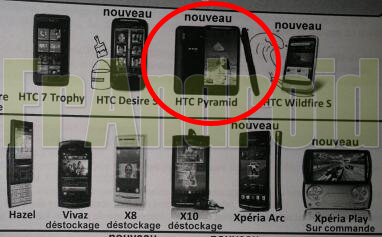 This news of course comes right after HTC announced that it would be hosting an event on April 12th to unveil 'what's next', leading many to believe that the company would be announcing the oft rumored HTC Pyramid, a device that is said to be Europe's version of Sprint's HTC EVO 3D without the 3D.
The fact that SFR will be carrying this device at the end of May makes it seem likely that the Pyramid will be the device featured at HTC's event but there is, of course, the possibility that it could be something else entirely.
Sadly this looks to be bad news (for the time being) for T-Mobile USA customers who were hoping that the Android 2.3 (no, not Android 2.4 unfortunately) with HTC Sense 3.0 powered Pyramid would be launching in the United States. Although, never say never with a device as beautiful as this one.
The Pyramid will feature a dual-core processor Qualcomm Snapdragon 1.2 GHz, 4.3 inch qHD display, 768 MB RAM, an 8 megapixel camera with dual LED flash and a VGA front-facing camera.