HTC Rezound Android 4.0 Update Looks Good for April 6th
Last week, a Best Buy document seemingly outed the Android 4.0 dates for the HTC Rezound, Motorola Droid RAZR and the Motorola Droid RAZR MAXX. Today, another document from Best Buy has surfaced indicating a delay in the release Ice Cream Sandwich for the Droid RAZR and Droid RAZR MAXX while the date for the HTC Rezound's update remains the same.
The document, dug up by Android Police, says that the update for both Droid RAZR smartphones has been delayed until an unspecified date. Originally, the updates were thought to have been coming on April 4th.
Yesterday, Verizon acknowledged that it would have details about the Droid RAZR MAXX update, at the very least, in the near future.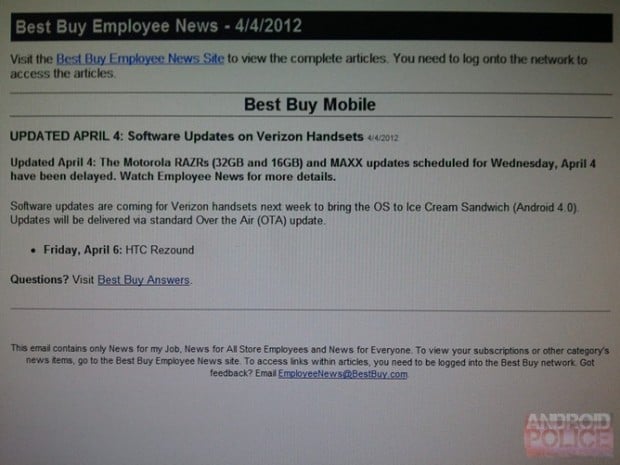 The carrier said nothing about the update for the original Droid RAZR.
This new document still has the HTC Rezound update as arriving on April 6th which is tomorrow.
It's possible that HTC and Verizon will delay the update in the same fashion as Android 4.0 for the Droid RAZR and Droid RAZR MAXX but we won't know for sure until tomorrow rolls around.
The HTC Rezound, while currently Verizon's flagship HTC smartphone, has dropped in price recently to $49 on-contract and will likely be replaced soon by the Droid Incredible 4G, the carrier's first 4G LTE Droid Incredible.
These three represent a small fraction of the device's that Verizon plans on upgrading to Android 4.0.
Other devices include:
HTC:

HTC ThunderBolt
DROID Incredible 2 by HTC
HTC Rhyme
HTC Rezound

Motorola:

Motorola XOOM
DROID BIONIC
DROID RAZR
DROID RAZR MAXX
DROID 4 DROID
DROID XYBOARD 8.2
DROID XYBOARD 10.1

Samsung:

Samsung Galaxy Tab 10.1
Samsung Galaxy Tab 7.7

LG:
Verizon has yet to give any of these a specific release date.

This article may contain affiliate links. Click here for more details.