HTC Rezound Will Cost $650 Off-Contract
Hoping to get the upcoming HTC Rezound for Verizon off-contract? Well, be prepared to pay a steep price because it looks like Big Red will be giving it a familiar $650 price tag once it hit shelves on November 14th. The price is of course familiar because it's the same expensive price that the carrier put on the Motorola Droid RAZR, a device whose launch will precede the Rezound's by three days.
Obviously, this new off-contract pricing for Verizon's 4G LTE smartphones is not optimal, especially for devices as intriguing as the HTC Rezound and the Droid RAZR but it appears that this is going to be the trend.
That means that you should fully expect the Samsung Galaxy Nexus to arrive with a similar price tag when it touches down on Big Red's 4G LTE network later on this month.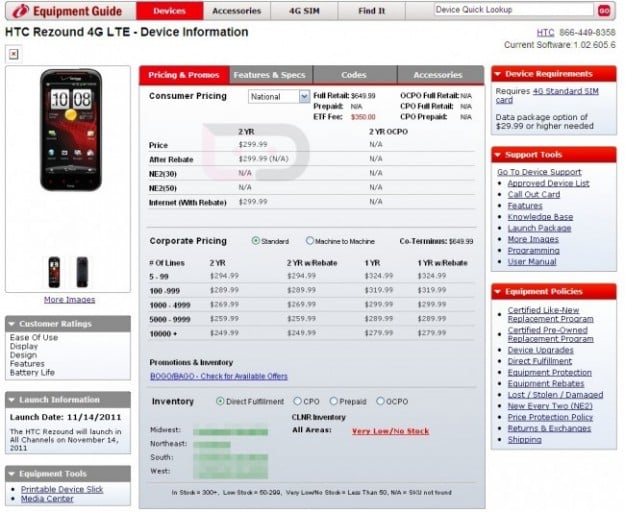 The $650 off-contract price represents a $350 premium over the $300 on-contract price tags that Verizon has placed on the Rezound and Droid RAZR.
As it stands, Verizon can get away with prices like these because it stands virtually unopposed in the 4G LTE space. AT&T just released its first two 4G LTE smartphones with relatively inexpensive price tags but it only has service available in a handful of cities.
Once Ma Bell is able to root its network further, its possible that Verizon will be forced to drop its prices in order to compete.
That is, unless AT&T decides to follow in Verizon's footsteps and charge $300+ for flagship 4G LTE smartphones.
We won't know for sure until next year though.
Via: Droid-Life

As an Amazon Associate I earn from qualifying purchases.