HTC Rhyme Hands-On – Will Purple Reign With Women?
Is it possible to launch a new smartphone these days without a massive display, super powerful processor, or 4G? HTC seems to think so, as the new HTC Rhyme doesn't have any of those things. This modest 3.7-inch Android Gingerbread device sports a 1GHz CPU and is "only" capable of 3G. However, it is purple (sorry, plum), and that's pretty fancy.
Snarkiness aside, not everyone needs a superphone. What I find interesting about the Rhyme is that it's clearly aimed at women. So what does that say about how the company views the demographic? Another point to consider is the Rhyme is the flagship device for the Sense 3.5 Android skin. It's designed to make Android easier to use, more intuitive, and get users right down to what's important: messaging, taking pictures, and interacting with friends on social networks.
Hardware-wise, the Rhyme is, in theory, powerful enough for your average smartphone tasks. The phones on display at the launch event lagged somewhat as I used them, particularly when dealing with widgets, but I wouldn't make a complete judgment based on that.
Design-wise, it has the classic HTC aesthetic — definitely a good thing — with the added bonus of color. Plum is a step up from pink for tech aimed at women,  but I found myself drawn to the gold-ish model I spotted. Apparently that's the global version.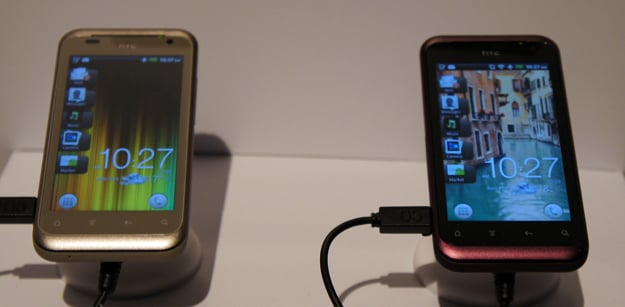 The Rhyme is light, feels good in the hand thanks to the nice curve on the edges, and integrates the buttons into the design well. I just wish it had a dedicated camera button.
HTC Sense 3.5 is the most interesting thing about the phone, and it offers quite a few nice feature I wish I had on my Thunderbolt. The flip clock that once dominated the Home screen by default is now a full-screen widget that takes up less screen real-estate visually, so that people can see their backgrounds. Okay. This widget includes app launchers with drawers that can offer dynamic information.
The mail icon can tell you how many unread messages are in your inbox and who the latest message is from when you slide out the drawer. Add the music app and you can see what's playing, plus open the drawer to access player controls. The calendar app drawer will show you your next appointment or event, including the time.
Of course, the flip clock is still there (someone at HTC loves to know what time it is) and when you tap it, the same collection of time-related apps pop up. A big bonus. Thw weather app now has even more interesting animations.
HTC retained the carousel animation for moving between Home screens that we saw in Sense 3.0, but now it's less cartoony and more elegant. The widgets remain mostly the same with a few new additions, including a data usage widget for Verizon Wireless.
Just as with 3.0, the lock screen is super useful, allowing folks to launch apps by dragging them into the circle. You can customize which apps you want on the lock screen as well. And when a message comes in, the lock screen will show who it's from and the first few characters so you can quickly ascertain if you need to turn the phone on at all.
HTC also threw in some other customizable areas, so users can decide which apps or features they want at their fingertips.
If you're going to make a phone that will appeal to the ladies, then it not only has to be a fun color, but ti also must come with matching accessories. The matching part I can do without, but I'm very glad to see that not only are good accessories available, but three nice ones come in the box.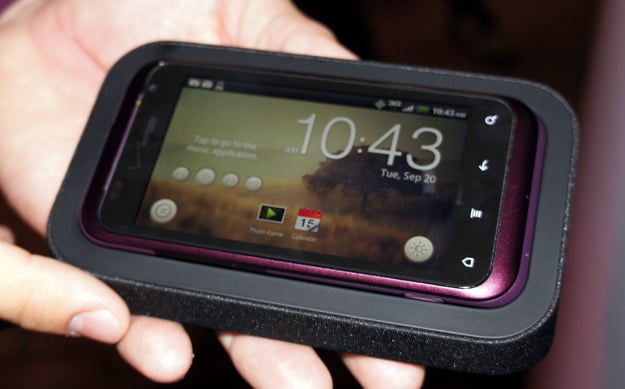 Customers will get the sweet nightstand dock with integrated speakers that allows for inductive charging so you won't need to deal with ugly wires hanging around. The docking mode is nice because users can customize which apps sit in the center bottom, so you'll have access to alarm clock functions and anything else you seem necessary. You can get the dock in black or white.
Also included is a pair of purple tangle-free headphones and a charm. The charm is actually a cute idea. It's essentially a blinking light that you plug into the headphone jack and clip onto your shirt to the strap of a bag. When you get a phone call, text message, or voice mail, the charm will blink. It's very attention-grabby, and will work even if you're in a noisy place or can't feel your phone vibrating. The charm comes in purple or white.
Other accessories include a purple Bluetooth headset, a Bluetooth speaker that clips to the visor in a car, and an armband for use when exercising. I'm a fan of good accessories, so these all make me happy.
The HTC Rhyme will be available at Verizon Wireless stores, on the website, and at Target on September 29th for $199. Not a bad price for a phone that comes with accessories. Check out the full image gallery below. Hands-on videos coming soon.