HTC Ruby Destined for T-Mobile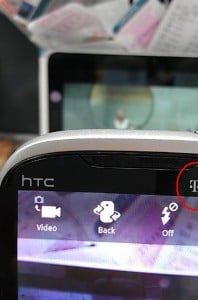 The recently leaked HTC Ruby smartphone may be headed to T-Mobile, though at this time it's still unclear whether the release will be for the carrier's international arm or if it's for the U.S. market. A closer Flickr image uncovered by pocketnow of the smartphone was found that shows the HTC Ruby and part of the T-Mobile logo, suggesting that the carrier will at least be offering the phone when it launches.
At this time, it's still unclear as to whether the HTC Ruby will launch with Android or Windows Phone 7. The camera UI shown on the screen doesn't resemble anything we've seen thus far from HTC on either platforms. The camera app does reveal that the device will have a front-facing camera, however, for video calls.
Via: Phandroid