HTC Says the One X is Better Than the Samsung Galaxy S III
Internal documents have revealed how HTC in planning to sway consumers from the Samsung Galaxy S III to its HTC One X smartphone.
The documents, acquired by PriceBaba and courtesy of The Next Web, show a list that features "countering objections" where HTC runs down a list of reasons why the One X bests the Galaxy S III. The list itself is intended for salespeople who will likely be peppered with questions in regards to the Galaxy S III's features.
Running down the list, one can see that HTC has quite a few counterpoints in regards to how the One X matches up with the Galaxy S III.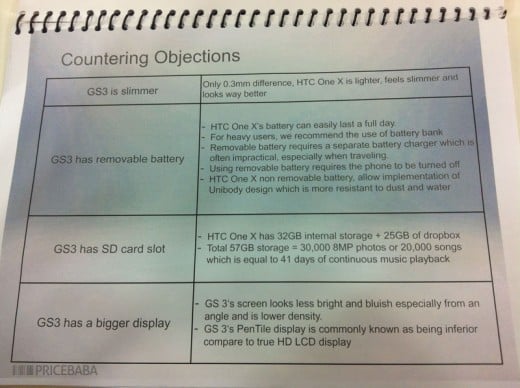 Read: HTC One X Review | $199 AT&T 4G LTE.
As far as the Galaxy S III's slimness is concerned, HTC says it's only a 0.3mm difference and that the One X feels lighter and thinner in the hand.
It also touts the HTC One X's display, one of the best on Android, saying that it true HD LCD is superior to the Samsung Galaxy S III's PenTile Matrix display and that the Galaxy S III's display looks worse when looking in at it from an angle.
HTC vigorously defends several of the issues I had with the One X.
First, the use of a non-removable battery. HTC says that the One X's battery can last a full day (that's not really an argument), that the removable battery requires a separate charger, a removable battery requires the phone to be turned off, and that the removable battery allowed HTC to better design the One X's unibody form factor.
Second, HTC defends the lack of a microSD slot on the HTC One X by saying that the phone offers 32GB of internal storage plus DropBox cloud storage which brings the phone up to 57GB.
It also does a side-by-side comparison of some of the other key specifications which can be seen below.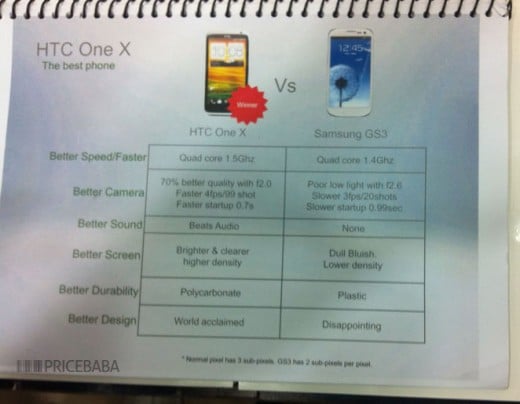 Obviously, HTC thinks its phone is better than the Galaxy S III and that's the position it has to take as the Samsung Galaxy S III is already selling extremely well and those numbers should go up once it lands in the United States later on this month.