HTC Sensation Details, Review & Hands-On Video Roundup
The HTC Sensation is an upcoming smartphone that was originally known as the HTC Pyramid before HTC made the device official at a press event on April 12th in London. Because of its features, the HTC Sensation is one of the most anticipated Android handsets to date.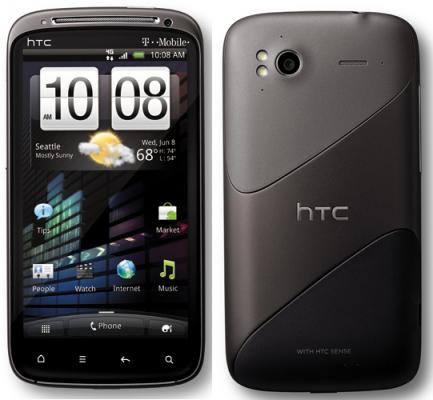 HTC Sensation Release Date
While the HTC Sensation is official, there are still some unknowns and those unknowns include its specific release date and exactly which carriers it's going to be headed to. HTC confirmed it would be headed to Vodafone first at the April 12th event (it officially arrived on Vodafone UK on May 19th) but there are still a few European carriers that haven't made announcements yet.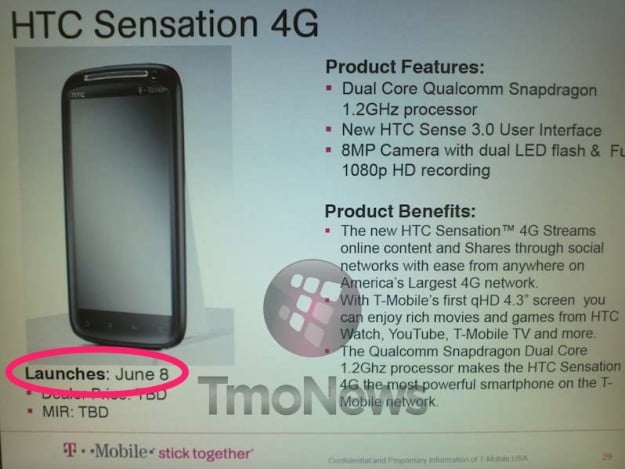 As for the U.S. it's certain that T-Mobile will be getting a version of the HTC Sensation called the HTC Sensation 4G, possibly on June 8th or 11th, which means that the UK will likely see the device at some point in late May.  We had seen that June 8th date pop up all the way back on April 20th so it appears that the beginning of June is going to be when this thing drops.
What is the HTC Sensation?
The HTC Sensation is a powerful smartphone built by HTC and it will likely be, barring something drastic, T-Mobile's second dual-core powered handset after April's release of the LG G2x.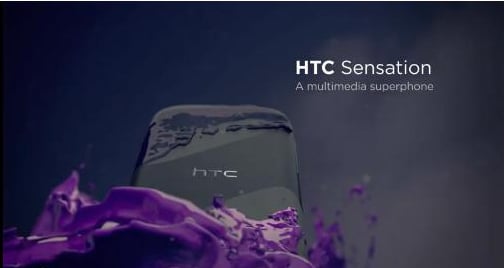 It features a 4.3-inch SLCD touchcreen with 540×960 resolution which offers 35% more pixels than a typical display, a 1.2GHz dual-core processor for fast better overall speed and faster multitasking and it's going to be powered by Android 2.3 Gingerbread with the new HTC Sense 3.0 on top of it.
HTC Sense 3.0, as you might recall, was originally announced back with the HTC EVO 3D which means that the Sensation will very likely be the first phone to feature HTC's new UI as the EVO 3D still doesn't have a release date.
HTC Sensation Hands-On Video
HTC Sensation Features
HTC Sense 3.0: Brings a better lockscreen , new animations and improved interaction. It also comes with HTC Watch which brings better movie streaming to the handset.
Full 1080p Recording: The HTC Sensation is able to record full 1080p video with up to 30 frames per second using its rear 8MP camera. The camera also features instant capture.
Contour display: Glass is contoured along the edges of the screen which helps to protect it when it's laying face down on a surface like a table.
HTC Sensation Pricing
The HTC Sensation still does not have an official price tag, however, a recent leak indicates that it will cost $199.99 at Target. Other retailers will likely offer it for a similar price on a new two-year contract. It's as of yet, unknown as to how much the device will cost off contract.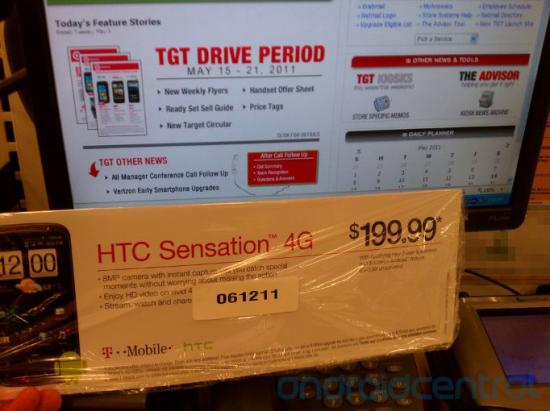 HTC Sensation vs. LG G2x
The HTC Sensation is going to be the chief rival of the LG G2x on T-Mobile USA because both share something in common. A dual-core processor. However, the HTC Sensation has a 1.2GHz Qualcomm chip while the LG G2x has a 1GHz Tegra 2 NVIDIA processor.
Next difference, the display. The HTC Sensation employs a 4.3-inch display with qHD resolution. That's 540×960 resolution. The LG G2x has a 4-inch screen but it only has 480×800 resolution. So, if you like stuff on your display to be crisp, the Sensation takes the cake here.
Second, the HTC Sensation is coming with Android 2.3 Gingerbread with HTC Sense 3.0 over the top of it, right out of the box. The G2x is currently on Android 2.2 and awaiting its update to Gingerbread. If you hate waiting or you've had a bad experience with Android fragmentation, you might want to think about the Sensation.
Both have 8MP cameras with dual-LED flash however, the LG2x has the better front facing camera with a 1.3MP shooter while the HTC Sensation only rocks a 0.3MP VGA. If you do a lot of video chatting on your phone, the G2x might be the way to go.
HTC Sensation Hands-On, Review Videos
HTC's official recap of the April launch event in London which will go over all of the highlights of the company's announcements including that of the HTC Sensation.
—
A close look at the T-Mobile version of the HTC Sensation, the HTC Sensation 4G, courtesy of MobileBurn.
—
Phone Arena's look at the HTC Sense 3.0 UI that will be over the top of Android 2.3 Gingerbread on the HTC Sensation.
HTC Sensation Specs
| | |
| --- | --- |
| Networks: | GSM 850, 900, 1800, 1900, UMTS 900, 1700/2100, 2100 |
| Operating system: | Android 2.3 Gingerbread with HTC Sense 3.0 |
| Display: | 4.3-inch S-LCD Display (540 x 960) |
| Camera: | 8MP rear camera with dual LED flash |
| Memory: | 768MB of RAM, 1GB of internal storage |
| WLAN: | 802.11b, 802.11g, 802.11n Wi-Fi |
| Bluetooth: | Bluetooth 3.0 |
| GPS: | A-GPS |
| Battery: | 1520 mAh |
| Special features: | 1080p video capture, HTC Sense 3.0, high-res display and blazing processor |
| Chipset: | 1.2GHz Qualcomm MSM 8260 dual-core processor |
HTC Sensation Gallery