HTC Sensation Offered on Sale at Target for $130 Mid-August?
According to early leaked retail materials, Target may soon offer a special promotion for the recently launched T-Mobile USA HTC Sensation 4G Android smartphone. The flagship device, with its qHD displat, dual-core 1.2 GHz processor, and the latest build of HTC Sense on Android Gingerbread, can be had for $130 starting on August 14th if Phandroid's sources are accurate.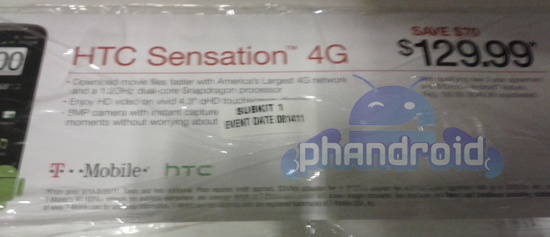 It's unclear if the device will be getting a temporary promotion or if this will be an on-going sale. The $130 asking price will be the device price with a two-year service agreement from T-Mobile USA; the Sensation 4G normally costs $199.99 with a two-year contract.
The Sensation 4G also boasts a slim profile with a sturdy unibody aluminum build that looks good and feels great in the hands. It definitely feels a lot lighter and sleeker than the HTC Desire HD–also released as the HTC Inspire 4G on AT&T–which is the last-generation model that the Sensation is supposed to replace.
The device did experience some controversy since release with the issue of death grips surrounding some antennas, though not the cellular radio antenna.
In addition to Target, if you don't mind buying online and waiting a day or two for delivery, you can shop at other online retailers. Most often, Amazon and other third-party retailers will offer lower prices for devices than the carriers offer through their online store or physical retail stores.