HTC Sense 5 Screens Reveal Flatter, More Modern Look
A new leak of HTC Sense 5 images from the XDA forums show the next version of HTC's skin is flatter and more streamlined than Sense 4+.
The collection of five screenshots don't show everything about the new HTC Sense 5 skin, but they do show that HTC decided to make the skin more subdued than previous versions. The giant ring to unlock the phone is gone, as is the trademark analog clock and weather widget. In their place are more modern looking elements.
The lock screen of HTC Sense 5 gets rid of the giant ring and the full screen weather animation. Instead there's a simple lock icon in the middle for the four dock icons at the bottom of the screen and an example of the new clock and weather widget above them. It's not clear how the lock screen works yet, but it should become clear once the HTC M7 arrives.
The new homescreen design also includes the new flat and modern clock and weather widget. HTC also changed Android to allow for a total of five app icon rows so the rows don't look comically stretched out to fit large screens like the upcoming M7 and the HTC DROID DNA (which was recently shown with its own Sense 5 skin).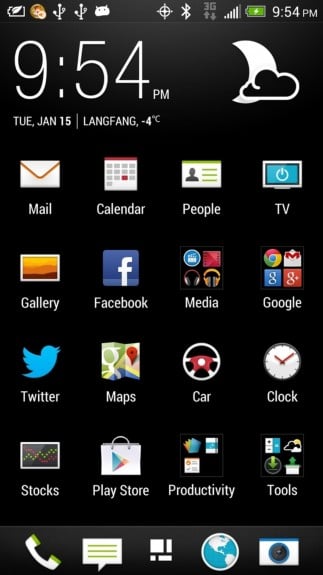 The dock on the bottom of the homescreen no longer looks like a tab coming from the bottom of the screen, and is instead just a bar that extends from edge to edge. The icon in the middle of the dock is now an icon that looks a lot like the leaked Live Tile-like widget screen that was recently spotted on a leaked M7. It's not clear if it launches into that screen or the standard app drawer.
Other screenshots include a couple of lists in Settings and a phone call screen. The Settings list has slightly redesigned toggle buttons, but otherwise looks mostly the same. The phone call screen looks a lot different from the Sense 4+ screen, but has the same functionality.
Overall, it appears that Sense 5 is closer to the current Android design than Sense 4/4+. Where Sense 4+ had bright vibrant colors and big UI elements Sense 5 uses more muted colors and smaller, flatter elements. It's still not exactly like stock, but it looks like HTC is gradually pulling back its skin to get closer to stock Android, at least in terms of design.