HTC Thunderbolt, Droid Charge, or Another 4G LTE Android Phone? Should You Buy or Wait?
It's official and the wait will finally be over as the Droid Charge will go on sale tomorrow, Saturday. Should you buy the Android smartphone that many reviewers–ourselves included–are noting to be the better smartphone to be available on Verizon's 4G network, or should you wait for another 4G smartphone to arrive–like the Droid Bionic or the LG Revolution? Of course, there are other great 3G smartphones on Verizon, if that's the carrier of your choice, or even flagships from other carriers, like the Sprint EVO 3D to consider as well if you're not married to Verizon. We're going to run by the Droid Charge feature for feature against some popular smartphones.
Be sure to check out our list of the Best 5 Android smartphones available today as well.
Display:
The Droid Charge employs Samsung's excellent Super AMOLED Plus display, which now uses a regular RGB matrix for pixel rendering rather than the older PenTile technology from AMOLED and Super AMOLED dislays. Regardless of the technical lingo, what you're getting is rich, saturated colors, dark blacks, and a display that doesn't bleed light while still having the potential to blind you. In my opinion, Super AMOLED Plus renders text more crisp than Super AMOLED, and it's bright and completely usable under direct sunlight.
There are other display options as well. LCD screen technology, while not as vivid as Super AMOLED Plus, does offer better color replication as you're not stuck with this overly saturated screen. The iPhone 4's Retina Display is excellent and packs a lot of pixels to make everything crisp, sharp, and clear. The LCD panel on the Thunderbolt does a good job as well, though the screen doesn't seem as bright under direct sunlight as the Charge's, and sports the same resolution.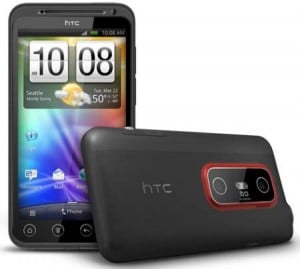 Speaking of resolution, that's another factor to consider. The Charge and Thunderbolt both employ a WVGA resolution screen, meaning you're getting 800 X 480 pixels. Newer smartphones to hit, including the rumored Droid X 2, Droid Bionic, and Sprint HTC EVO 3D will pack a higher resolution display in the same screen size, meaning you're going to get more pixels for sharper images on the qHD screen resolution. There's also the Motorola Atrix 4G, which uses the same high pixel density qHD display on an even smaller 4.0-inch display, meaning a more pixel-packed experience for your eyes to feast on.
From Super AMOLED to Super LCD, there's the 4-inch Droid Incredible 2 with its Super LCD panel, which boasts the same brightness of Super AMOLED displays, but offers more natural color replication without the over-saturated hues we're seeing on the Droid Charge. In reality, Super LCD is akin to a brighter LCD display, and the Super LCD on the Incredible 2 is the same WVGA resolution on a smaller 4.0-inch panel, rather than the Charge's 4.3-inch.
Then, of course, should you go with a glasses-free 3D experience on the HTC EVO 3D?
Whether you're searching for color and brightness, or pixel resolution, all these displays perform admirably well indoors and outdoors. I would suggest hopping to an AT&T store to glimpse the qHD display on the Atrix 4G and then going to Verizon to see the Super AMOLED Plus screen. You can decide from there.
Processor:

Both the Thunderbolt and the Charge are launching with single-core processors. Is that enough as we are entering a dual-core era? It depends, actually. A month ago, I would have said forget double cores as there aren't enough apps, if any, to utilize the asynchronous processes of dual-core applications processor, but now that I've been playing with the Charge and Thunderbolt for some time, neither devices are able to keep up with me. The Charge slows down and is completely laggy once you pile on the app, which is an easy thing to do given Amazon's free paid app per day promotion through its Amazon Appstore for Android. The Thunderbolt, though doesn't lag, has to re-fresh the home screen every so often so you're waiting for that if you're trying to navigate to your widget. In reality, I think the Droid Charge's more limited RAM makes it a poorer experience for users who load on apps as it really takes a toll on the limited resources.
That's not to say either phones are bad or are not speedy. However, the Charge's single-core 1.0 GHz processor is noticeably slower in swiping through screens and multi-tasking than the 4.5-inch Super AMOLED Plus Samsung Infuse 4G with its 1.2 GHz single-core CPU or AP (applications processor). That device is swift and agile in handling apps, swiping screens, and multitasking, but then again you're bogged down by AT&T's misrepresentation of 4G. Choice between the Charge and the Infuse comes down to 4G Internet speeds versus multitasking and device speeds. Tough call there.
The LG Revolution will be a single-core CPU device as well, and it's a 4G LTE phone, while the forthcoming Droid Bionic is said to be a dual-core gigahertz smartphone from Motorola. If you're looking at Netflix compatibility, which right now boils down to CPU for DRM reasons, the LG Revolution is the only phone right now that's said to be compatible with Netflix. Other phones would most likely get Netflix support, but you're not guaranteed.
Sprint is upping the ante with the HTC EVO 3D with its dual-core 1.2 GHz Qualcomm CPU on that device and a newer experience of HTC Sense UI.
Battery Life:
Battery life right now on the Droid Charge and Infuse 4G, both launching on the same weekend for Verizon and AT&T respectively, are comparable. You should get about a day's worth of use on either phones, which is better than the HTC Thunderbolt's battery life. On 3G smartphones, like the Incredible 2, you'll squeeze better battery life even, but you won't experience 4G LTE network speeds.
Internet:
If fast browsing, fast uploading, and the lack of patience for waiting describes your mobile Internet usage needs, then there's no arguing that 4G LTE, 4G WiMax, and then HSPA+, in that order, will be your best bet. I am distrustful of AT&T as its 4G smartphones are even slower at browsing the net than its 3G iPhone 4 so I have my biases there. In terms of speed, Verizon edges out with its fast 4G LTE speeds, up to 15 Mbps on average for me in daily performance on the download side and 5 Mbps on the upload side. 4G WiMax is fast as well, but you're hampered with slower upload speeds, which comes in handy when uploading photos and videos on the go to Facebook and YouTube, and HSPA+ offers a good compromise on T-Mobile. The benefit of HSPA+? World roaming, if you travel globally, as it's based on GSM/HSPA technology, so you should be able to get GSM/EDGE/UMTS/HSPA/HSPA+ compatibility, if your phone supports the appropriate radio frequencies, when you travel.
Tethering:
In my experience, tethering on the Droid Charge is more satisfactory than on the Thunderbolt. You can read my post about that here.
Camera Performance:
Both the Charge and Thunderbolt offer excellent 8-megapixel image capture and 720p video capture. The Droid Bionic will offer the same camera strengths, and the Revolution will come with a 5-megapixel camera. In daily use, you're presented with good sensors for the classes of device there. The other difference is that rather than the 32 GB memory card pre-loaded on the phones, the Revolution is the only device to come with 16 GB. Of course, you can swap out to a 32 GB card, if you need, for more money.
If you're looking at flash performance, the Droid Incredible 2 is the phone that uses a dual-Xenon flash mechanism, similar to the Nokia N8. Other phones uses LED, either single LED or dual-LED flash mechanisms.
On the HTC EVO 3D on Sprint, the highlight there is the ability to capture 3D images and videos with the 5-megapixel dual-rear cameras and 720p 3D video recording.
User Interfaces:
HTC Sense? Samsung TouchWiz? The LG experience? Motorola widgets? If you're looking for a more native Android experience for Verizon, go with either the LG Revolution or the Bionic, which promises more minimal UI customizations. The TouchWiz and the Sense interfaces are both more dominating and heavily integrated into Android on the Charge and Thunderbolt respectively.
Physical Buttons or Capacitive Buttons?
Most Android smartphones offer capacitive touch Android navigations to the bottom of the screen. The Droid X, the Droid X 2 and the Droid Charge will all offer physical buttons. This is better for some people as you don't have to worry about accidentally closing an app by inadvertently putting a finger on a button when you didn't intend to.
Other Considerations:
There are other considerations to be made, and sometimes, looking at the specs can be deceiving. In the end, it's about the overall user experience on the device, and not just the specs, that create a compelling device to own. Every user is different, but if you're a user looking for fast mobile Internet, your choices right now are the Thunderbolt, Charge. Sprint's EVO lineup and T-Mobile's 4G phones are great candidates as well. Keep in mind that all of Verizon's 4G phones lack keyboards and all are powered by larger 4.3-inch displays, so your choice in form factor isn't going to vary much.
That said, between Verizon's Thunderbolt and Charge, I'd still recommend the Charge due to the battery life issues of the Thunderbolt. But if you're not tied to Verizon or even 4G LTE, take a look at other carrier phones or Verizon's 3G smartphones. All these devices offer great features and plenty of power.

As an Amazon Associate I earn from qualifying purchases.