HTC Thunderbolt Launching After iPad 2…The Wait Goes On
Droid Life has gotten its hands on a Verizon document that seems to indicate that the thunderbolt will not be released until after the iPad 2 launches. If you are hoping to buy an HTC Thunderbolt soon, don't hold your breath.
The HTC Thunderbolt was originally announced at CES 2011, but Verizon has yet to formally announce a launch date for its first 4G phone. Rumors have only been flamed by Best Buy, which began taking pre-orders for the thunderbolt on February 6. The retailer even tweeted an "official" launch date of March 4. Verizon wireless seems eager to tap down rumors, and has even gone so far as to ask Thunderbolt fans to move on to other topics.
As we reported earlier, some HTC reps have been citing "politics" as the reason behind all the fuss. Verizon has certainly had a busy few weeks, launching the iPhone 4 and the Motorola Xoom back-to-back. The iPad 2 is right on those devices heels, with a March 11 release.
The launch of the HTC thunderbolt is a really big deal for Verizon and we're sure the carrier doesn't want the device to be overshadowed by the iPad 2. It's very likely that part of Verizon's deal with Apple includes a buffer between the launch of the iPad 2 and any other devices.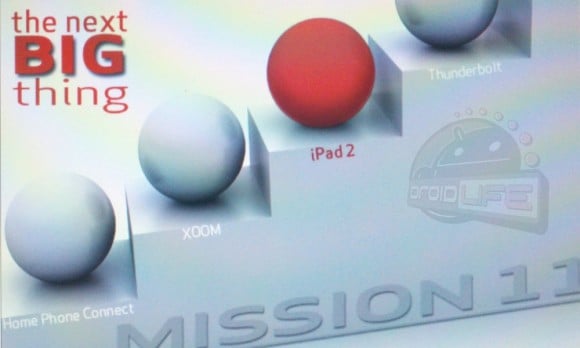 Of course this document doesn't give any real indication of when the Thunderbolt will be released, but it appears that Verizon is playing by Apple's rules here.
HTC builds some solid devices and its market share has skyrocketed over the past several months, but the brand still doesn't carry the same cachet as Apple. It's very possible that HTC is taking a back seat to Apple's demands.
The HTC Thunderbolt is similar to the Sprint EVO 4G, but has some upgraded hardware specs and a couple of new features. The biggest difference is of course that it's geared to run on Verizon's 4G LTE network rather than Sprint's WiMax network.
You can learn more about the HTC Thunderbolt and view our hands on videos here.