HTC ThunderBolt Update Rolling Out Tonight, Will Fix Reboot Issues
It appears that one of the the nightmare's plaguing HTC ThunderBolt owners across the country will end tonight as some good, physical evidence has surfaced indicating that the ThunderBolt will receive an update tonight that will take care of the reboot issues.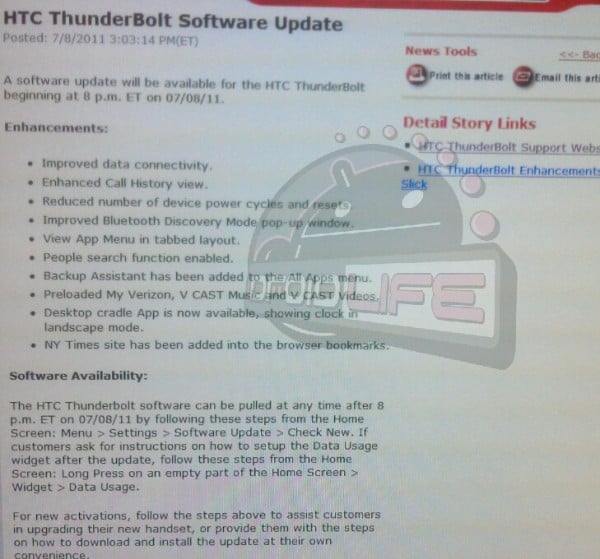 For those unfamiliar, it's been about two months since Verizon rolled out an update to the ThunderBolt that started causing the 4G LTE smartphone to randomly reboot with provocation and it has led many ThunderBolt owners to either return their phone or voice their frustrated opinions across the internet.  Well, those frowns will soon turn into semi-smiles as evidence from Droid-Life indicates that an update will be rolling out tonight at 8PM EST.
This is what the update is supposedly going to bring:
Improved data connectivity.
Enhanced Call History view.
Reduced number of device power cycles and resets.
Improved Bluetooth® Discovery Mode pop-up window.
View App Menu in tabbed layout.
People search function enabled.
Backup Assistant has been added to the All Apps menu.
Preloaded My Verizon, V CAST Music and V CAST Videos.
Desktop cradle App is now available, showing clock in landscape m
NY Times site has been added into the browser bookmarks.
It should be available to manually install at 8PM for those of you with HTC ThunderBolt's. Keep in mind that this is not Gingerbread and is a maintenance update. Gingerbread shouldn't be too far off though.
Keep an eye out and let us know when you see it.