HTC Thunderbolt, Verizon 4G LTE Phones Not Launching Until Summer?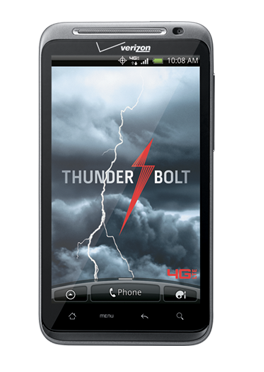 According to Verizon's CTO, Verizon's first 4G LTE phones will launch before the second half of 2011.The HTC Thunderbolt is one of the most-anticipated phones of the year and there have been several signs that the phone would be launched earlier rather than later.
We've written about quite a few Verizon Thunderbolt rumored launch dates, but Verizon has yet to announce an official release date. The best Verizon's said thus far is that LTE phones would launch during the first half of 2011. Verizon CTO Tony Melone spoke at an investors conference and  it appears he tried to downplay any perceived delay of 4G phone launches on the network:
I guess our expectations change, but we had said first half of this year at CES, quite frankly, we think that exceeded people's expectations. A year ago, people didn't believe that there would be LTE smartphones in 2011. First half of the year is what we promised, first half of the year is still on track. So we don't believe there are any new or surprising issues…

And as I said, you are going to see LTE smartphones on the network as promised, before the first half — before the second half of the year, by the end of the second quarter.
In PR/IR speak, that sounds to me like they're on track for releasing the Thunderbolt and or some other 4G LTE phone on June 30…maybe. Keep in mind that as an executive, Melone is obligated to provide accurate information when he speaks publicly to avoid getting slapped by the SEC for violating disclosure regulations.
The Thunderbolt was originally announced at CES 2011, but Verizon hasn't announced an official launch date. Since then, there have been several rumors of the Thunderbolt being released soon.
On February 6, Best Buy began taking pre-orders for the device for $50. Thunderbolt commercials from both HTC and Verizon have been airing nationwide and were briefly published on YouTube. Best Buy, the 'exclusive' nationwide Thunderbolt retailer also Tweeted an update indicating it would go on sale this month. An HTC rep we spoke to insisted that the Thunderbolt would be launched March 4…or a week later at most. Yesterday, a Verizon slide leaked that showed that the Thunderbolt would have to wait until after the iPad 2 was launched on the network. Verizon and Best Buy reps have also taken their best guesses at when the Thunderbolt will go on sale.
So far, Verizon has been pretty quiet on the issue and continues to try and keep a lid on the Thunderbolt release date rumors. The company's even gone as far asking Thunderbolt fans to move on to other topics.
I can understand if Verizon needs more time to work on its 4G network before unleashing the Thunderbolt on it, but why run commercials three or four months early? And why oh why would you want to launch the Thunderbolt in the same time frame as the iPhone 5?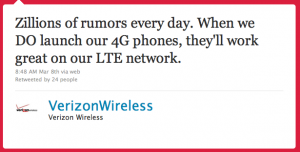 Verizon's latest Tweet on the Thunderbolt/4G LTE  issue is above.
Quote via ZDNET