HTC U Ultra: 2 Reasons to Buy It, 5 Reasons Not To
This week HTC announced two brand new smartphones. The HTC U Ultra and HTC U Play. Beating Samsung and LG to the market in 2017. Potential buyers wondering what the new HTC U Ultra has to offer will want to read on. Here are a few reasons to buy it, and a couple more reasons why you shouldn't.
HTC makes excellent smartphones with great hardware. However, the beautiful HTC 10 from 2016 wasn't as popular as expected. As a result, the company is taking a completely different approach this year. For better or worse.
Read: HTC 10 Impressions & Video
With the HTC U Ultra buyers get a huge 5.7-inch Quad HD display, a second screen above it, and an excellently designed phone. It's a perfect replacement for the recalled Galaxy Note 7. Or is it? There is plenty to like, but even more we don't like.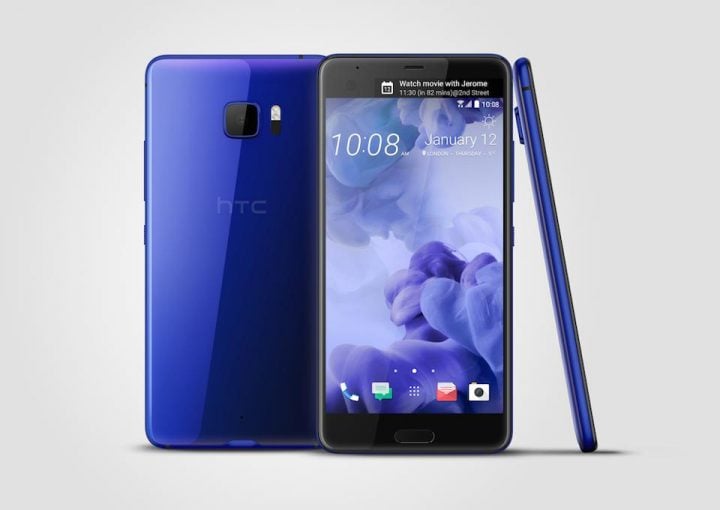 For those unaware HTC's new phone sounds pretty good. It has a big screen, a sleek new design, and the camera is pretty great. It has all the makings for a premium Android smartphone. At the same time, it's missing key pieces of the puzzle that ruin the overall big picture.
Instead of releasing an awesome phone, HTC followed other companies failed ideas and combined them all into one device. It has a weird second screen like LG. There's no 3.5mm headphone jack like the iPhone 7 or Moto Z. It's also pretty expensive, something even Google was criticized on with the Pixel.
There is a lot to like though. HTC fans will love what HTC has to offer even with the compromises. The HTC U Ultra is available for pre-order right now, but won't be available until March. Here's a look at the specs, then our slideshow below goes into everything prospective buyers need to know.
HTC U Ultra Specs
5.7-inch 2560 x 1440 Quad-HD IPS Display
Secondary 2-inch "Ticker" Screen on top (Similar to the LG V10 & V20)
Quad-Core Snapdragon 821 Processor with 4GB of RAM
64GB Internal Storage and Micro-SD Support
Android 7.0 Nougat
12 Megapixel Camera with Phase Detection AF, Image Stabilization, more
16 UltraPixel Front Camera for Selfies
USB Type-C for Charging
No 3.5mm headphone jack
3,000 mAh Battery with Quick Charging
Above is a quick rundown regarding what this phone is all about. It's fast and powerful, has a big screen, the camera should be great and more. It even runs the newest Android Nougat software.
HTC fans will surely love this new smartphone. It's a big device with a lot to offer. Furthermore, it's really big. Bigger than the iPhone 7 Plus, bigger than the Nexus 6, and almost every other 5.7-inch smartphone. It's one of the tallest devices we've seen in a long, long time. Having a 5.7-inch screen and a 2-inch screen along with big bezels isn't a recipe for success.
That all said, some will still consider buying one. Below is a slideshow detailing all the HTC U Ultra strengths, what you'll love, in addition to why you probably shouldn't buy one.
If You Love a Big Screen & Beautiful Design
For things first, the HTC U Ultra is a beautiful smartphone. Made for U. The company used a new liquid surface finish on the back and covered it in glass. The result is a stunningly sleek smartphone. It looks good, feels nice, and flashes different colors as the light reflects off of the frame.
It's a great looking phone, there's no question about that. It'll be a fingerprint magnet, but most use a case anyways. The phone is thin, relatively lightweight, and has subtle curves to feel good in the hand. We love the design.
At the same time, it's rather large. HTC is using two screens on this smartphone. One main 5.7-inch Quad-HD IPS screen. Then a secondary 2-inch screen above it. Basically a shameful copy of the LG V10 and V20 "ticker". This will give owners quick access to favorite apps, notifications, and other helpful things like the new HTC AI software. It's somewhat of a gimmick, but many LG owners enjoy what it brings to the table.
The HTC U Ultra is a big smartphone. Between the fingerprint scanner, bezel, two screens and top portion it's longer than almost every phone you've ever used. Bigger than the "whale" of a phone in the Nexus 6. Taller than an iPhone 7 Plus. It makes the 5.5-inch Galaxy S7 Edge look small. You'll want to try it in person before buying, especially if you're worried about the size.
However, if you want a big phone and the Note 7 wasn't for you, consider the HTC U Ultra. It's available for pre-order right now on HTC.com and will be released in March.

As an Amazon Associate I earn from qualifying purchases.