HTC U11+ Release: What You Need to Know
The next impressive smartphone for 2017 is the HTC U11+ with a big 6-inch screen and all-day battery life. Nearly 6 months after the original HTC U11, the company is back with a sleek phone to take on the Galaxy S8 and LG competition. Here's what you need to know about the HTC U11+ release.
There are a lot of great Android smartphones available today. If you're not interested in the Galaxy Note 8 or Google Pixel 2 XL, the HTC U11+ might be perfect.
Read: HTC Android 8.0 Oreo Update Details
HTC took the award-winning design of the HTC U11 and added a bigger screen, tons of features, and integrated the latest Android 8.0 Oreo software update. This phone has a lot to offer and here's everything you need to know.
Earlier this year HTC released a great phone with an outdated design. The original HTC U11 had big bezels where Samsung and LG didn't. The new U11+ doesn't have that problem, and received a nice boost in specs and features too.
HTC U11+ Release Date
HTC's latest smartphone goes up for pre-order on November 20th, although we don't have an actual release date yet. Another potential problem is where it's being released. So far HTC only confirmed availability for Europe and the UK. And while it's possible we'll see it in the United States, they didn't share anything during the announcement.
A few rumors suggested the phone will arrive in early December, but that's all we have to go on. In the next few weeks the new HTC U11+ will go up for pre-order, and when it does we'll learn the actual release date. Once we know more we'll update with all the details.
HTC U11+ Design & Display
If there was one downside to the impressive HTC U11 earlier this year, it's the screen. The phone came with a 5.5-inch HD screen and big bezels on the top, bottom, and the sides. Since then we've seen the Galaxy Note 8, LG V30, and iPhone X arrive with a better design.
As expected, HTC fixed that with its new U11+ smartphone. It now features the same premium metal and glass design and beautiful colors of past HTC phones, but with a 6-inch edge-to-edge Quad-HD display. And while it still has a little bit of bezel on the top and the bottom, it looks more like a phone you'd see in 2017.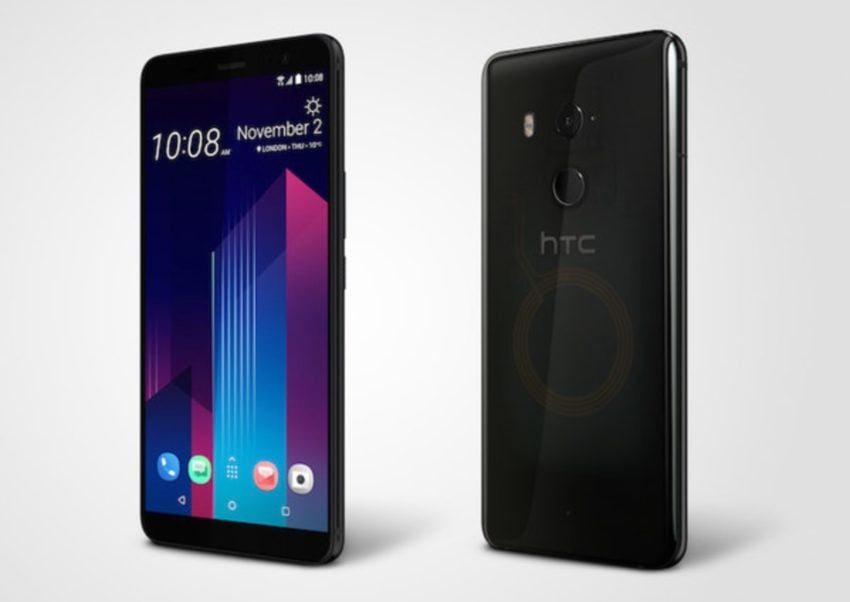 In order to fit that big screen in such a small package, the fingerprint scanner is now on the back, similar to other phones on the market. In fact, the HTC U11+ is about the same size as the original U11, only with a much bigger screen.
HTC is using a 2:1 aspect ratio where the screen is taller and skinnier than older phones, making it easier to hold and use the big screen. There are no dual front-facing speakers, but it does deliver dual stereo sound. By using one speaker in the earpiece, and a second bottom firing speaker on the bottom near the USB Type-C charging port.
In closing, the HTC U11+ features an IP68 dust and water-resistant rating. Meaning it can go under about 5ft of water for 30 minutes.
HTC U11+ Specs & Features
While the biggest difference between the U11 and the U11+ is the display, that isn't the only area that received improvements. The + is running Google's latest Android 8.0 Oreo release, it comes with a huge battery, and HTC added tons of software features that take advantage of the squeezable frame, known as Edge Sense. Here's the full rundown for those interested.
HTC U11+ Specs
6-inch 2880 x 1440 Quad-HD Super LCD5 Display (small bezels)
Snapdragon 835 processor with 6GB of RAM (same as the Galaxy Note 8)
64 or 128GB of storage with microSD expansion
Android 8.0 Oreo with Sense UI
12.2 UltraPixel Rear Camera with f/1.7 aperture, OIS, EIS, 4k video and more
8MP f/2.0 Front Selfie Camera
Big 3,930 mAh battery (Bigger than Galaxy S8, LG V30, Note 8, and Pixel 2 XL)
IP68 Dust & Water Resistance, Fingerprint Scanner, Bluetooth 5.0, more
USB Type-C with Fast Charging, and no 3.5mm headphone jack
As you can see there's a lot to like here. HTC added a huge battery and improved every area of the phone. Whether or not it's enough to sway buyers from the Galaxy Note 8 though, we'll have to wait and see.
HTC U11+ Price & Availability
The HTC U11+ comes in three colors: Black, Blue, and Translucent Black. Yes, one of the colors is actually see-though and you can see the insides of the phone. It's pretty neat, and you can see the big NFC coil in the middle back of the phone.
So, it has a big screen, the latest software, powerful specs and you're interested. When can you get one and for how much? Well, right now it doesn't look like the HTC U11+ is coming to the United States. Although that could change in the near future.
The HTC U11+ is available in Europe for €799 or the UK starting at £699, which is about $900 USD. This is an expensive phone with flagship specs, features, and a price to match. Again, pre-orders start on November 20th and hopefully, we'll hear more about global availability later this month. We'll update once we know more.

As an Amazon Associate I earn from qualifying purchases.