HTC Unveils the HTC One Series
HTC goes for a "Premium" market with the HTC One Series.
At Mobile World Congress today, HTC announced the HTC One series with promises of a better phone experience. HTC is claiming this series will not only have awesome specs that we all love, but also a better task management and a more simplified home screen experience with HTC Sense 4. This series of phones will run Android 4 (Ice Cream Sandwich) as well.
HTC unveiled the 1st 3 phones in this series as well, the HTC One X,  HTC One S, and  HTC One V.
HTC, a global designer of smartphones, today unveiled its new HTC One series of smartphones that represent its most premium mobile experience with a new level of iconic design and amazing camera and authentic sound experience.

"The best moments in life are captured with a photo or remembered by a song, so it was key for the HTC One series to improve these emotional experiences with an amazing camera and authentic sound experience," said Peter Chou, CEO of HTC Corporation. "We are very focused on creating a camera and audio experience customers will love and use often and we believe the HTC One series delivers this in a way never seen on a phone before."

With HTC's most premium experience, the HTC One series integrates Android 4.0 (ICS) with HTC Sense 4, the new version of HTC's branded user experience that is introducing HTC ImageSense, a new suite of camera and imaging features that set HTC One apart from other phones.  HTC Sense 4 also includes broad enhancements to audio quality and simplifies how people listen to music on their phone.
Let's meet the phones!
HTC One X

The HTC One definitely packs some impressive specs. Starting big with a dual core 1.5 GHz processor from Qualcomm, the HTC One X also has 1 GB DDR2 RAM and 16GB of on board storage. The HTC One X has a 4.7″ screen, proving that the big screen fad isn't quite a fad.  The HTC One X The HTC One X will feature an 8 megapixel camera with a new chipset called HTC ImageChip that is supposed to help you get the best photo possible despite the conditions. Throw in an 1800 mAh battery, Beats Audio, and LTE and you have a fairly packed out phone. Like the other HTC One models, it will ship with Android 4.0.
The HTC One X is slated for AT&T in the US.
There is one small issue I have with the HTC One X and understand, I am basing this merely on photos, but don't you think it looks like the snagged the Lumia 900 design?
HTC One S
Next up is the HTC One S and it's slated for T-Mobile.
The HTC One S is a thin is in competitor, HTC is calling it their thinnest phone yet. The processor, memory, OS version, and audio are the same as the HTC One X, but it's got a smaller battery and screen. The One S will have a 4.3″ screen, 1650 mAH battery, an 8 megapixel camera, dual core 1.5 MHz Snapdragon processor, 1 GB DDR2 RAM, and 16GB of on board storage. The HTC One S will work on T-Mobile's HSPA+ 42 Mbps network .
All 3 models are running Universal Beats Audio, a brand name audio from Dr. Dre. I haven't been overly impressed with this on the Rezound, but it's definitely being marketed by HTC now.
Like I said, this one is headed for T-Mobile. If I were the carriers involved in this launch, I would have loved seeing all 3 choices come to all the carriers.
HTC One V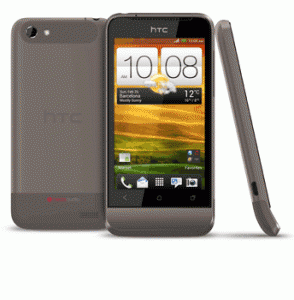 The HTC One V also features the Qualcomm 1.5 GHz Snapdragon dual-core processor, but has a smaller 3.7″ screen. The camera on the V is only 5 megapixels, but it has the same chip other 2 models. It has a Beats Audio as well. To match the smaller screen, it has a built-in, non-removable 1500 mAh battery. This one has an aluminum unibody design.
There is not much info available from HTC in the information that they provided me and I am unsure what carrier, if any, that the HTC One V is slated for.
The One V definitely seems to be the lower end phone of the three.
All of models have the same awesome sounding camera optics with F2.0 aperture and 28mm lens as well as 1080p HD video recording. I prefer these specs to the 16 megapixel camera on the HTC Titan II.
The HTC One series will begin shipping globally in April. Pricing will be announced in the coming months.
How are the next additions to this series going to be named? HTC One ____ or will it go to the Samsung way of doing it, the HTC One V II. Then the HTC One V II HD, followed by the HTC One V III XS.
What do you think? Did HTC hit a home run with this lineup?

As an Amazon Associate I earn from qualifying purchases.