HTC Vigor Benchmark Reveals Some Impressive Features
Before I get into telling you about HTC's latest unannounced device, keep this in mind. Benchmarks are easily faked. That being said, some benchmarks for a device called the HTC Vigor have appeared over at NenaMark today and reveal a handset that is supposedly Verizon bound. The benchmarks you see here were submitted by an anonymous individual so they're not official just yet but let's hope they are because this is one sexy sounding HTC-made device. So let's start with the software. The device in question apparently runs the latest version of Android Gingerbread which is Android 2.3.4 and includes Google Talk with voice chat. So, there is a chance that this is what it'll have out of the box.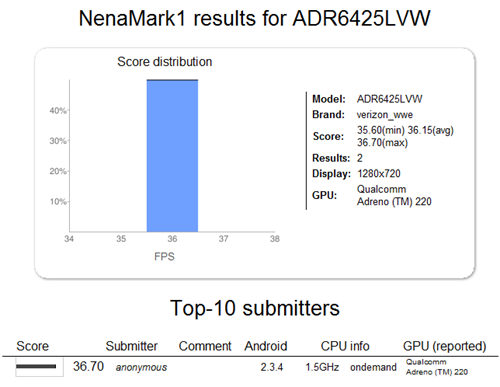 The benchmarks also reveal a Qualcomm Adreno GPU, an astounding 1280×720 resolution display, and a 1.5 GHz processor that might be single-core or dual-core (quad-core?), it doesn't say for sure. Unfortunately, that's all we got to go on right now.
Now, this isn't the first time that the HTC Vigor has leaked out, a test photo leaked out awhile back revealing a 6MP camera, but this is certainly the first big leak of a device that will surely get those who love HTC devices excited. Well, that is if it's the real deal.
Via: Android Police

This article may contain affiliate links. Click here for more details.