HTC Vigor Expected to Hit Radio Shack on October 20th
Just a short time ago, we learned that the HTC Vigor might be launching on October 13th as the HTC Droid Incredible HD. That's not the first time that we've heard about that October release window and it was pretty safe to assume that it wouldn't be the last. Droid-Life has stumbled upon another document today, from Radio Shack, that states that the HTC Vigor will be rolling into stores on October 20th.
So, what this probably means is that the Vigor aka Incredible HD will be available online or for pre-order on October 13th with the device landing in physical locations seven days later in typical Verizon fashion.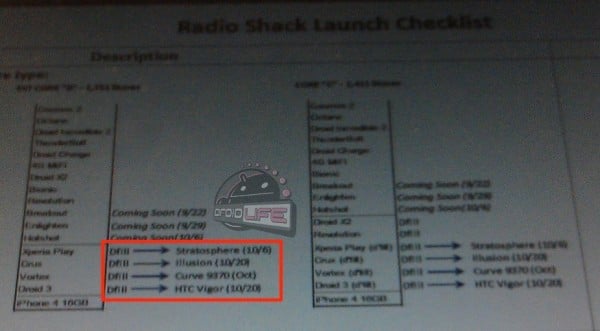 In any event, both dates are definitely ones to circle on your calender in a month that is already crowded with tons of rumored releases including the Samsung Droid Prime and Apple's latest and greatest, the iPhone 5.
The HTC Vigor/Droid Incredible HD should be able to hold its own though.
It's rumored to be the first device with a true high definition screen with 1280 X 720 pixels and measuring 4.3-inches. It's also rumored to have a dual-core 1.5GHz processor, 1GB of RAM, 16GB of internal storage, and a 8MP rear camera.
Oh, and let's not forget its 4G LTE radio, something we saw when it passed through the FCC.
All in all, it looks like a fantastic release but one that certainly will be met with stiff competition.

As an Amazon Associate I earn from qualifying purchases.