HTC Ville Rumor Roundup: Features, Hands-on Video, Release Date
With the Mobile World Congress 2012 coming up, there is quite a bit of speculation about which devices will be shown off in Barcelona. NVIDIA has confirmed that there will be at least one quad-core phone in attendance. LG may announce as many as four new smartphones. We might see the first Android 4.0 smartphone from Motorola. And, not to be left out, HTC is rumored to be announcing at least two devices. The HTC Edge (HTC Endeavor) and the HTC Ville.
Today, we wanted to focus on the HTC Ville, a phone that originally leaked out all the way back in November of 2011.
That leak saw a couple of details emerge along with an interesting looking render. And since then, the HTC Ville has leaked out countless times, giving us a fantastic glimpse at one of the phones that HTC hopes will get it back on firm footing in the smartphone world.
(Read: 5 Smartphones You Should Have Your Eye on in February.)
The HTC Ville isn't official yet, so take this information with a dash of salt at this point.
Hands-on Video
Before we get into the specifics on the upcoming HTC Ville, you'll want to have a look at the hands-on video below, a video that will give you a better idea about what to expect when the Ville finally does arrive on shelves.
Hardware
The first thing that we learned about the HTC Ville was that it was going to be an extremely thin device. If you're familiar with HTC's smartphones, you'd know that they aren't known for their slim physiques. In fact, HTC itself has pledged that it will be releasing less-bulky smartphones in 2012.
The HTC Ville figures to be the start to that plan as it supposedly features a sub-9mm design which puts it into the realm of the Motorola Droid RAZR MAXX which sits at 8.9mm thick.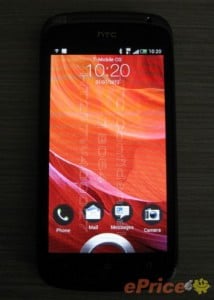 To compare, the iPhone 4S is 9.3mm thick.
The rest of the rumored specifications include a 4.3″ qHD display, an 8MP rear camera, a VGA front-facing camera, 1GB of RAM, and a 1.5 GHz dual-core processor of unknown origins. It also should have an HSPA capable radio.
So, it's a definitely a top of the line phone – even without a 720p display, and assuming that HTC puts a large battery on board, it should be able to hold its own amongst the Android masses.
Software
HTC apparently has decided to pair that quality hardware with a quality piece of software in Google's Android 4.0 Ice Cream Sandwich. Yes, folks, it appears that the HTC Ville will be an Android 4.0 device, which figures to be one of its main selling points.
Android 4.0 represents a major change from previous versions of Android. If you haven't handled it yet, you'll want to check out our Guide To Google Android 4.0 Ice Cream Sandwich.
Carriers
The HTC Ville is rumored to feature a radio for use with HSPA+. Sad to say but it looks like it won't feature 4G LTE data speeds, speeds that can be up to 10 times faster then 3G data speeds.
Of the four major U.S. carriers, two employ HSPA+ networks. AT&T and T-Mobile. So, that means that those two, at the moment, are the most likely destinations for the HTC Ville.
In fact. the Ville has already been rumored for T-Mobile's network. Which one though? T-Mobile employs both an HSPA+ 42 network and a HSPA+ 21 network. Those numbers refer to the downlink speeds that the network's can pull down.
And while HSPA+ 42 isn't quite on par with 4G LTE, it's still fast.
Release Date
As for a release date on AT&T or T-Mobile or both, we've heard that the Ville might be arriving sometime during Spring after an announcement at the Mobile World Congress or CTIA.
At the moment, the device isn't confirmed for either event.
(Read: Why Samsung Doesn't Need a Press Conference at MWC.)
However, we think that HTC will try to make a huge splash at MWC, especially with Samsung's decision not to host a major press conference, so smart money would be on an announcement in February with a release date to be announced at a later date.
Pricing
And lastly, pricing for the HTC Ville. Unfortunately, we haven't heard anything just yet but if it does end up going to T-Mobile, we expect the carrier to treat it like a flagship device and thus, may tag it with a premium.
T-Mobile's last flagship device, the Samsung Galaxy S II, retailed for $225 at launch and we wouldn't be surprised to see a similar price attached the HTC Ville.
As for AT&T, if the device does in fact launch on Ma Bell, it would have to be a lot cheaper as the carrier is currently rolling out 4G LTE devices and it would be odd to see an HSPA+ device costing more than one that has LTE capabilities.

As an Amazon Associate I earn from qualifying purchases.