Huawei Ascend P1 S Coming to China in March
Last month at the Consumer Electronics Show, Chinese manufacturer Huawei made a big splash with its elegantly refined Android Ice Cream Sandwich-sporting Huawei Ascend P1 S, a slim smartphone that's even sleeker than the Motorola Droid RAZR. The phone packs a lot of punch into a svelte package, including a dual-core 1.5 GHz CPU, 8-megapixel camera, and a thin 6.68 mm case. Though Huawei did not reveal pricing or a release date at CES, it appears now that the Ascend P1 S will be headed to China first in March. Huawei intends to launch the phone in as many regions as possible, and we can potentially see the phone debut either on AT&T or T-Mobile in the future as the device that was shown is a 3G GSM model.
The significant thing about the Ascend P1 S smartphone aside from its thinness is that the device isn't quite as wide as the Droid RAZR either. Unlike the Motorola Droid RAZR, which has a large bezel surrounding the display, the bezel surrounding Huawei's phone is much smaller and does not add much to the overall footprint. The overall design of the Huawei Ascend P1 S reminds me of the Samsung Infuse 4G.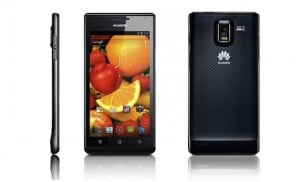 Best known for its entry-level budget smartphones and mobile products, Huawei has been making impressive strides in quality and design, especially with the Android 3.2 Honeycomb MediaPad (AT&T), which was also launched as the T-Mobile Springboard.
Huawei's rise in the smartphone space is reminiscent of HTC's journey. Both companies started by creating devices that were marketed under carrier branding, and now like HTC, Huawei is ready to start pursuing its own fate with its own brand. The company has stated in the past that it wants to enter the high-end space and also wants to tackle the U.S. market.
Via: Android Community

As an Amazon Associate I earn from qualifying purchases.