Huawei Honor 5x: 5 Things I Learned on the First Day
The new Huawei Honor 5x is a well-rounded smartphone with a lot to offer for those on a budget. Announced at CES 2016 early this year, the new Honor 5x goes on sale January 31st for a stunningly low price of $199. Now, after just 24 hours with the phone we want to share some initial impressions, and five things we learned after one day with this premium budget smartphone.
A full review will be coming soon, but as the release date nears users are likely weighing all of their options in the budget market. From the Moto G, ASUS ZenFone to countless others that ring in under $200. It's hard to find a quality cheap phone, but Huawei delivers (for the most part) with the Honor 5x.
Read: Moto G 2015 vs Huawei Honor 5x: 5 Key Differences
Priced at $199 the Huawei Honor 5x has a lot going for it. From an all metal design, a big 5.5-inch 1080p HD screen to even a micro-SD slot and a fingerprint scanner. The last of which, is typically reserved for high end $500 flagship smartphones. However, that low price does come with a few compromises, so read on for our first thoughts after 24 hours using the Honor 5x.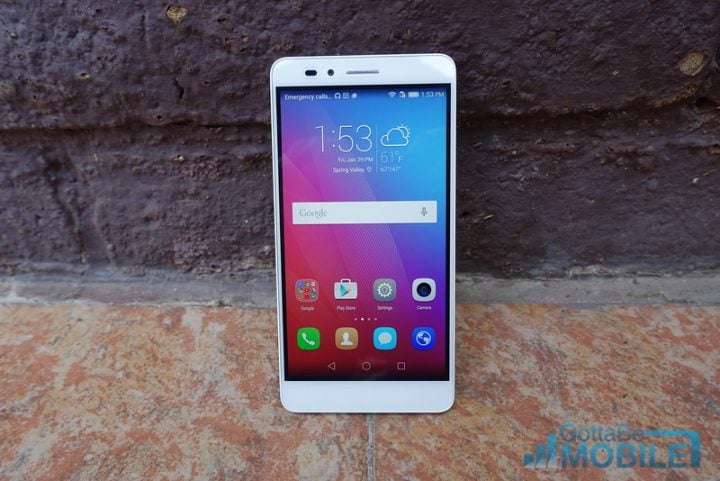 Huawei may not be a household name when it comes to smartphones, but we'll be hearing a lot from them in 2016. The company teamed up with Google in late 2015 on the Google Nexus 6P, possibly the best smartphone of the year, and they've been making great budget phones for a long time. Huawei is finally bringing all it has to offer to the United States.
As a quick recap before we get into talking about the phone, this is what it's all about. The Honor 5x has a 5.5-inch 1920 x 1080p Full HD display, similar in size to the LG G4. One that is wrapped in an all aluminum design. It's powered by a Snapdragon 615 processor with 8-cores and 2GB of RAM, 16GB of internal storage, and a micro-SD slot for users to add extra storage.
Other specs include a rear-mounted fingerprint scanner for enhanced security and mobile payments, a 13 megapixel rear and 5 megapixel front camera setup, Android 5.1 Lollipop (more on this below) and it's all powered by a decently large 3,000 mAh battery. All of that is just $199, and it will be available from Huawei, Best Buy, Amazon, Newegg and others on January 31st. Interested yet?
Compare that to the previous budget king, the Moto G, and it sounds like an absolute win. And for the most part it is, but not without a few compromises.
Honor 5x Design
For $199 the Huawei Honor 5x should win some design awards. It comes in a sleek all metal frame that is well made, durable, yet lightweight. It doesn't feel cheap, but it doesn't feel like a $600 iPhone either. The top and bottom back has plastic ends so it still gets good signal or service, as all metal can hurt performance.
The rear camera has quite the bulge, which we're used to seeing these days, but under that is a fingerprint scanner. Finding one of those on a phone under $200 hasn't happened yet, so this is impressive. Adding that level of security and options is great at this price point.
Around the sides is the same lightweight aluminum design and the left side has two eject-able trays. One for the SIM slot, and another for a micro-SD slot to expand storage, something most buyers want. The right side has nice, tactile aluminum volume up/down keys and below that is the power button. It's easy to find and tap, although most will use the rear-mounted fingerprint scanner for most activities.
Then on bottom we have a micro-USB port for charging and syncing. No USB Type-C or anything, and what looks like dual speakers. However, only one outputs sound. It gets rather loud, but also sounds quite poor. To be honest the sound output and software are the only weak links in what is an otherwise excellent phone. At the same time, this phone is only $199. You can't have everything. It's easy to cover the speaker with a finger and mute the sound. More so than other bottom mounted speakers like the Galaxy S6, Note 5, iPhone and others.
The front is a typical Android phone with a slab of white plastic, but it also comes in Silver and Gold. Personally, the all silver model looks the best.
Bright & Clear HD Display
One thing that was a peasant surprise was just how great the 5.5-inch 1080p HD display is on this phone. Many devices under $200 have to cut back somewhere, and that's often the display. Screens are expensive, but they put a pretty excellent 1080p panel in here.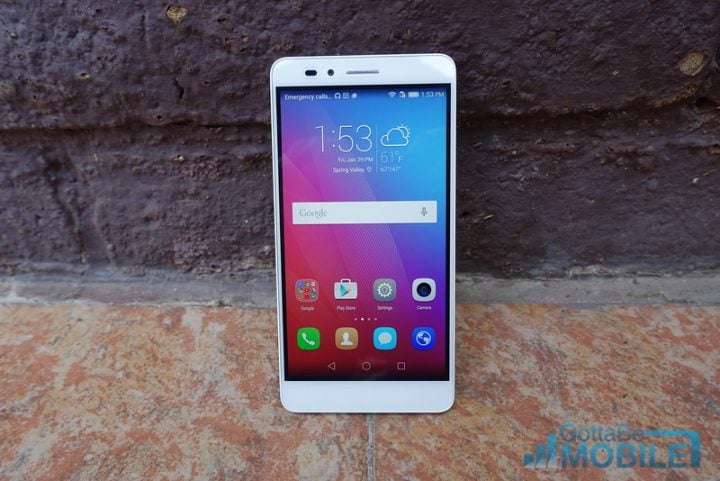 Colors are bright and vivid. Text is crisp and blacks are inky black. By no means will this top the Galaxy Note 5 and it's Quad-HD AMOLED screen, but looking at the competition in this price range, most will be more than satisfied. Viewing angles are also pretty great. The colors don't get completely washed out or blown away while looking at the phone from an angle, which wasn't expected.
All said and done the screen gets plenty bright, has decent colors, and looks good enough for everything from browsing the web to some light gaming. Even the 2015 Moto G only had a decent 720p HD screen. So for this to have a 1080p screen, powerful internals, a metal design and a fingerprint scanner, is really impressive.
Oh, and there's a screen protector installed out of the box. That was nice to see.
Fingerprint Scanner
We've used a lot of phones with fingerprint scanners. Some are amazingly fast like the Nexus 6p or Galaxy Note 5, while others could use some work like the LG V10. Huawei sits somewhere right in the middle, if not near the top.
The Huawei Honor 5x fingerprint scanner is conveniently located on the back right where an index finger would go, right where Google put it on the Nexus 5X and Huawei Nexus 6P. We doubt it's the same sensor, but it's just as accurate and easy to use.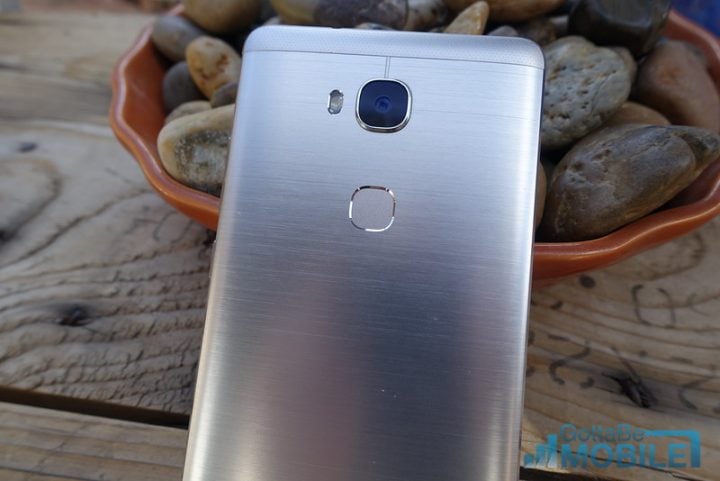 Unlike Samsung where it takes 10-15 or more taps to register a finger, the Honor 5x learned mine after just six taps, and worked every single time. I didn't get a single error while trying to unlock the phone for more than 24 hours. I used it all of yesterday and today, and am pleasantly surprised by how good the fingeprint scanner is.
Setup was a bit confusing at first though. As it required a pattern, then a pin, then again asked for a pattern or pin after putting in your fingerprint. Of course this is a fail-safe in case someone has a wet finger or other situations, but it didn't seem as streamlined as it could have been. This will likely improve when the phone gets updated to Android 6.0 Marshmallow, which brings us to our next point.
Mediocre Software
If there is one downside to this otherwise excellent and well-rounded budget smartphone that has all the bells and whistles, it's the software. We've seen this from other reviews around the web, and it's a bit of a letdown.
The Huawei Honor 5x runs Android 5.1 Lollipop, not Android 6.0 Marshmallow. Google released its latest software update in October. Four months later phones should not be released with Android 5.1 Lollipop. Even HTC was able to deliver the HTC One A9 in November with Android 6.0, so this is inexcusable.
To make matters worse this isn't stock Android. It's covered with a custom interface called EMUI version 3.1, similar to Samsung's TouchWiz or HTC Sense UI. However, it looks like a mash-up of iOS and Android, with a few odd things here and there.
The bubbly and cartoonish interface isn't our favorite, but it's not too bad either. It doesn't appear to slow the phone down too much, and at least offers all the key basics for any smartphone buyer. From Google apps, a decent camera app (that looks blatantly like an iPhone), Facebook, Twitter, and others.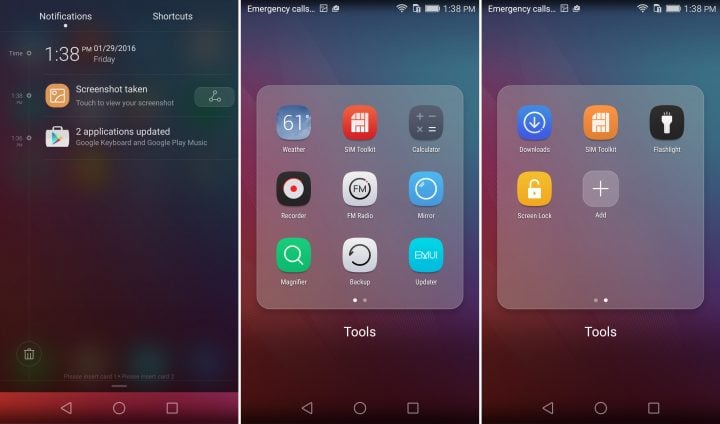 One plus though, is there are helpful tools like an FM radio, a mirror app, magnifying glass, flashlight app, auto-backup to save important texts, files, photos and more all pre-installed. So while the software is certainly one of our least favorite aspects, it has more than enough for buyers. Again, especially at $199.
Oh, and the screen lock and unlock sounds should be turned off immediately. They're loud and obnoxious.
Battery Life & Camera
After just a day of usage we can't really comment too much on battery life or performance, but so far it seems somewhat promising. The phone is plenty fast, although I did notice a little lag with screen rotation, but everything else was pretty great. After using the phone moderately from 8AM to 8PM, I had 46% remaining. Which is better than most, and more than we were able to get from the Galaxy S6.
The camera on back is a 13 megapixel camera with an LED flash. It isn't anything groundbreaking, but it isn't terrible either. Compared to most in this price range, it again exceeded expectations, but not by much. Colors were decent, auto-focus and the actual shutter speed were slower than we'd like, but it gets the job done.
Huawei's Honor 5x front and rear cameras are more than capable for most photos, but don't expect iPhone or Samsung Galaxy like results out of it.
Final Thoughts
At the end of the day there are a lot of things we need to dig through to fully understand Huawei's new Honor 5x smartphone. Overall it runs pretty fast, smooth and stable, but did have a hiccup here and there. It's no flagship phone by any means, but for $199 buyers will have a tough time finding anything remotely close to what this has to offer.
We'll need to spend more time with the Honor 5x before we post a full review, but so far I'm rather impressed. What Huawei has been able to deliver for $199 is exceptional. It takes the budget crown away from the Moto G, and does it while offering more in almost every aspect, then tops it with a bigger full HD display and a fingerprint scanner for security.
The Huawei Honor 5x goes on sale in the United States on January 31st for $199, and is unlocked so should work with most GSM carriers. Like T-Mobile, AT&T, Cricket, Metro and more. It also supports most 4G LTE bands, so if you're on a budget go grab one soon. Stay tuned for more details.