Huawei Honor 5X Brings Fingerprint Tech to Budget Market
Huawei announced an all-new smartphone this week called the Huawei Honor 5X. The brand is still relatively unknown, but received a huge boost with the launch of the Huawei Nexus 6P in October, released by Google. The new Honor 5x brings a premium design and fingerprint scanner technology to the budget market.
During the annual Consumer Electronic Show in Las Vegas, Huawei ended the day last night by announcing one more device, the Honor 5X. The goal is to offer an unlocked and well-rounded premium looking Android smartphone for those on a budget. Going after the Moto G and ASUS ZenFone lineup.
Read: Huawei Nexus 6P Review: Google's Finest Phone Yet
Not to be confused with Google and LG's own Nexus 5X, announced in September, the new Huawei Honor 5X is a completely different phone but offers some similar features at a much lower price point. Those who want an excellent smartphone but can't afford a $600 device will want to read on for more details.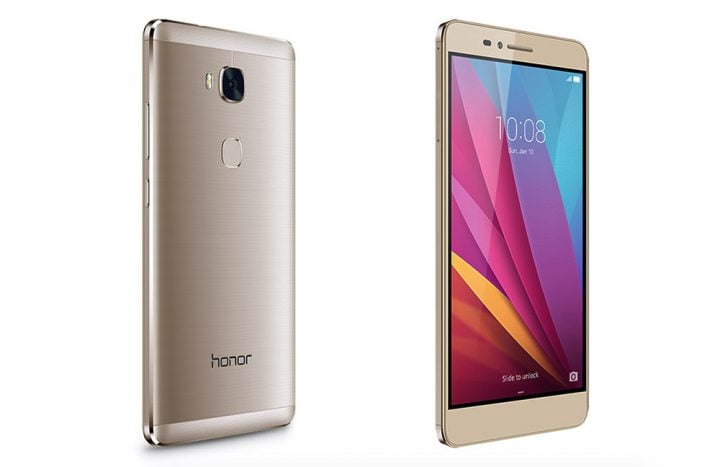 Huawei's new Honor 5x has a lot to offer for a relatively low price. The phone features a 5.5-inch 1920 x 1080p Full HD LCD display, similar in size to the LG G4. It's powered by a Snapdragon 615 processor with 8-cores and 2GB of RAM, 16GB of internal storage, and has a micro-SD slot for users to add additional storage for apps, movies and games.
Other specs include a rear-mounted fingerprint scanner for enhanced security and mobile payments, a 13 megapixel rear and 5 megapixel front camera setup, Android 5.1 Lollipop (No Marshmallow yet) and it's all powered by a decently large 3,000 mAh battery.
As for the design, users will notice it comes in a premium all aluminum or metal frame with a ceramic coating. The main model comes in Gold, but Huawei will also offer it in Aluminum Silver and Gray. It might not be the best phone on the market, but with those specs and features it has more to offer than the Moto G, specs similar to the LG G4, and is priced at only $199. It supports full US 4G LTE bands like AT&T and T-Mobile.
The new Huawei Honor 5X went up for pre-order today at a wallet-friendly price of only $199, and will begin shipping from popular online retailers like Amazon and Newegg on January 31st.

As an Amazon Associate I earn from qualifying purchases.