Huawei Honor 5X vs Moto G: 5 Key Differences
In late 2015 Motorola released its 3rd generation Moto G. A well-rounded smartphone with a lot to offer for only $179. It has been one of the best budget phones to date, but in early 2016 at CES Huawei unleashed a new phone called the Honor 5X. Here, we'll be going over some key differences to help owners choose the right budget phone.
In September, the 3rd generation Moto G was announced for $179 or $229, and it has some decent specs to go with it. Many other phones have tried to emulate its success but failed. However, the new Honor 5X which will be available in the US on January 31st could do exactly that.
Read: Moto G (2015) Review
Huawei's new Honor 5X brings an all aluminum design, high-end specs like a fingerprint scanner and more all to the budget market. It's making a lot of noise, and has a lot of interest. As a result, below is a comparison for those considering a budget phone in the near future.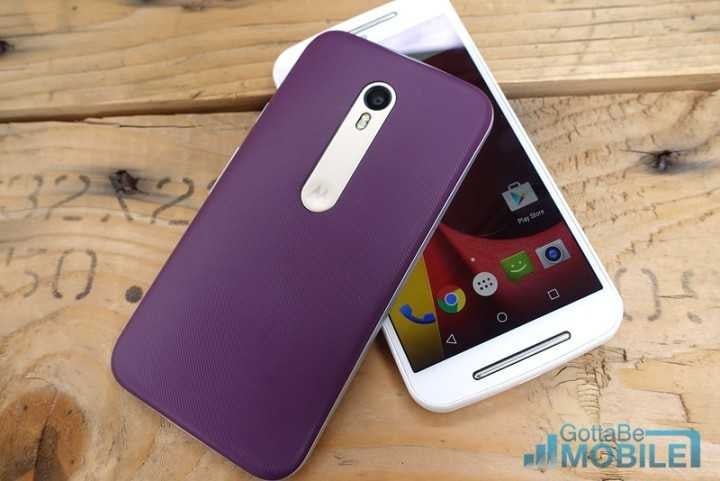 In our review of the 2015 Moto G above we called it the best budget phone, but that could soon change once the Huawei Honor 5X is released. And while the stock Android 6.0 Marshmallow software on the Moto G might be better for most, it's the rest of the phone that makes the Honor 5X special.
Huawei isn't a household name for many in the US, but it's one of the biggest phone manufacturers in the rest of the world. Google partnered with them last year for its flagship Nexus 6P, which should answer any questions regarding whether or not they make good devices. Google chooses its partners carefully, and Huawei is an up and coming brand here in the United States. That said, lets compare the two.
Display
Motorola's Moto G in 2015 comes with a 5-inch 1280 x 720p HD display, which is pretty great considering the price. Many in that range don't offer the same, but Huawei has something even better. The Huawei Honor 5x comes with a big 5.5-inch 1080p full HD display.
We've only spent a few minutes with the Honor 5X while at CES where it was announced, but our limited time with it we came away impressed. The screen was bright, crisp, and colors were pretty good. Especially considering the price. The screen is one area many cut back to save costs, but that doesn't appear to be the case with the Huawei Honor 5X.
Read: Huawei Honor 5X Hands-On & Thoughts
In terms of size and specs the Honor 5X clearly wins here, but we'll need to spend more time with it and release models to fully test the display. So far though, the bigger 5.5-inch full HD screen was rather impressive.
Design
When it comes to design the Moto G is one of the best, especially for $179 or $229. It's made from plastic but has an aluminum frame around the outer edges, and removable backs to easily swap out colors for owners. Adding a bit of customization.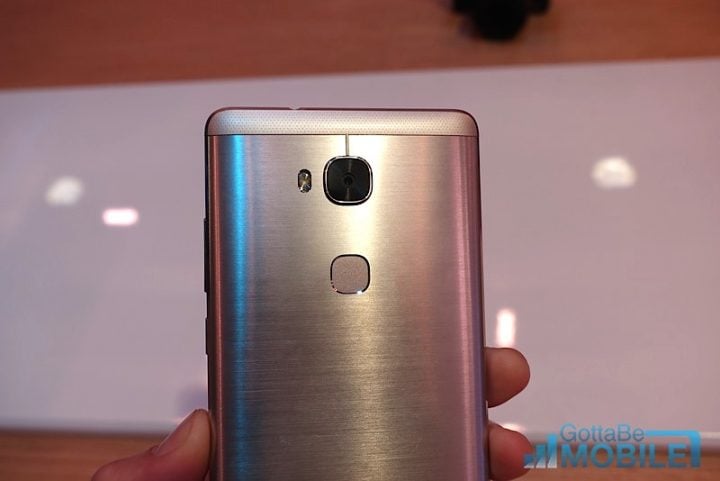 It's a typical Motorola phone with the power and volume buttons off to the sides, a nice 8 megapixel camera on the back and an aluminum stripe down back is a signature design element, just for looks, on Moto phones in 2015.
The Honor 5X though is made entirely from a lightweight aluminum or metal. Honestly it feels like a cheaper metal than something on the HTC One M9 or Galaxy S6, but then again, it's price at under $200, so that makes sense. At the end of the day, the Honor 5X is all metal, feels good, but isn't too heavy. It didn't have a cheap tin-can feel to it, but didn't feel overly premium either. It's a good middle ground.
The Honor 5X is also extremely thin and lightweight considering everything packed inside, which brings us to our next point. Part of the specs blend in with the design, because the Honor 5X has one thing almost no other budget phone does — a fingerprint scanner on back for security.
Specs
Budget phones typically all offer similar overall specs, the same screens that are barely HD, and nothing extra. That's what makes the Honor 5X exciting. It packs features closer to something like the LG G4 or Galaxy S6 (but not completely) while hitting the price point of the Moto G. It's a unique blend of options all priced aggressively enough that many will consider it. This is the full breakdown.
Huawei Honor 5X Specs
5.5-inch 1920 x 1080p Full HD Display
8-core Snapdragon 615 Processor with 2GB of RAM
16GB internal storage, micro-SD slot for storage expansion
13 Megapixel Rear and 5 Megapixel Front Cameras
Android 5.1 Lollipop (No Marshmallow yet, but soon)
Fingerprint Scanner on Back
All Metal Design
4G LTE in the US
3,000 mAh Battery
More
Moto G 2015 Specs
5-inch 720p HD display
Quad-core Snapdragon 410 processor
8GB of storage and 1GB of RAM
or a 16GB model with 2GB of RAM
13 Megapixel rear and 5 MP front camera
Android 6.0 Marshmallow (in most regions)
Dual front facing speakers (only one has sound)
4G LTE and a micro-SD slot
MotoMaker Support
Water-resistant
2,470 mAh battery
More
Looking at the two, they both have plenty to offer but the Honor 5X has quite the leg up. The screen is bigger and full HD. It has a more powerful 8-core processor that supports Quick Charge 3.0 technology. It has a bigger 3,000 mAh battery, a similar camera setup, and a fingerprint scanner for enhanced security. That's a lot of smartphone. There is two downsides to the Honor 5X. It comes with Android 5.1 Lollipop, not Marshmallow, and it also is covered with Huawei's software. Not stock Android. It has a look and feel similar to iOS with an Android flair, and we're not yet sure when an update to Marshmallow will arrive.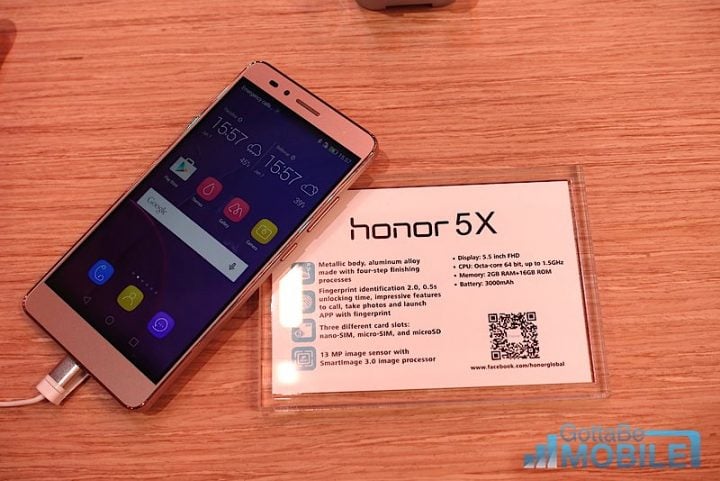 The Moto G runs stock Android and already received an update to Android 6.0 Marshmallow. It's water-resistant, and it has customization options. That said, the Huawei Honor 5X comes in three colors, has a ceramic coating over the metal design, and defaults to 16GB of storage for a lower price than the 16GB Moto G.
Honor 5X vs Moto G 2015: Price
Here's where things get interesting. The Huawei Honor 5X is priced right in the middle of the two price versions of the Moto G, and is very aggressively priced to sell. It's also one of a few Huawei phones with full support for all US carrier bands. Well, not Verizon, but it works with T-Mobile an AT&T 4G LTE, as well as all of their smaller partners like Cricket or MetroPCS.
The Huawei Honor 5X is just $199. It comes with 16GB of storage, and everything mentioned above for that price. It will be available in Gold, Aluminum Silver, and White.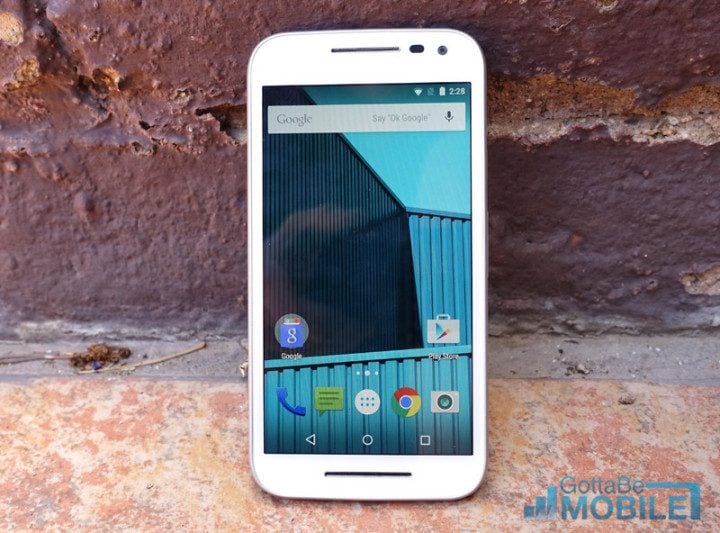 Motorola's smartphone on the other hand, is priced slightly higher and lower. The 8GB of storage and 1GB RAM Moto G runs $179, and may not be as fast or smooth. Then, the 16GB 2GB RAM model of the Moto G is $229, but does offer customization on Motorola.com.
Release Date
The Moto G was announced in September of 2015, and has been available for more than a few months. Users can buy it today, right now at multiple locations, as well as Best Buy or Amazon.
If you need a phone right now the Moto G is one of the better options around for this price. However, those able to wait just a few weeks should consider the Huawei Honor 5X. It went up for pre-order last week the wallet-friendly price of only $199, and will begin shipping from popular online retailers like Amazon and Newegg on January 31st.
Both have plenty to offer and a few upsides over one or another. If you want a metal phone and fingerprint scanner, Huawei has you covered. Those wanting customization, a slightly better build quality and stock Android should consider the Moto G 2015.

As an Amazon Associate I earn from qualifying purchases.