Huawei Teases Ascend Mate Phablet Ahead of CES
Ahead of the Consumer Electronics Show in January where Huawei is expected to announce its Android phablet efforts, the Chinese smartphone-maker has already begun teasing its 6.1-inch phablet, which has an even larger display than the market-leading 5.5-inch Samsung Galaxy Note II. Unlike the Note II and like many of highest-end smartphones, the Ascend Mate is said to have a 1080p full HD resolution display.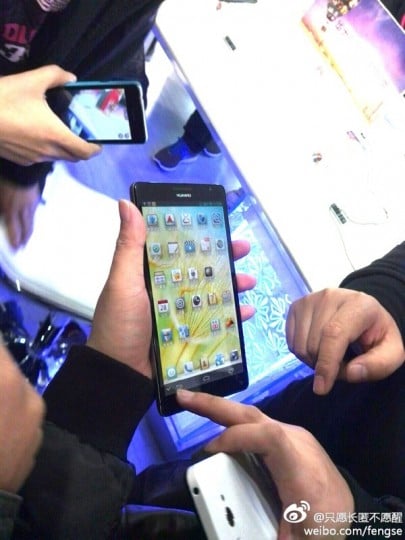 Huawei's chairman of devices Richard Yu took to the company's retail store in Guangzhou, China to show off the company's tablet effort. The Ascend Mate is said to carry a price tag of just under $500 to remain competitive with efforts from Samsung and the Oppo Find 5.
Other specs include Huawei's K3V2 quad-core processor, which had received mixed performance reviews in the past, clocked at 1.8 GHz with 2 GB of RAM, a capacious 4000 mAh battery that's even larger than the 3300 mAh battery on the Droid RAZR Maxx HD, and what appears to be a relatively slim profile.
It's unclear if the Ascend Mate will be making its way to the U.S. market and if Huawei has any intentions of making it a note-taking phablet like Samsung's Galaxy Note II. One of the things that make the Note II a breakout success in this space is a carefully implemented suite of software that matches the hardware, including apps that make use of the digitizing pen's capabilities.
With a display size creeping over the 6-inch mark, we're seeing the phablet market slowly inching its way towards the 7-inch tablet market.
GottaBeMobile will be on hand at the Consumer Electronics Show in Las Vegas in January to cover any Huawei announcement and we're eager to find out how Huawei's foray into the phablet market shapes up to be. It's also been rumored in the past that Huawei is working on a phone device with an 8.5-inch display.

This article may contain affiliate links. Click here for more details.