Huge Nexus 9 Deal Slashes Price by $100
Over the past month we've seen countless impressive Nexus 9 deals surface offering Google's latest tablet at a great price, but none can beat the Nexus 9 deal announced this afternoon by Best Buy. Those who've yet to pickup Google's latest Android 5 Lollipop powered tablet, now is the perfect time.
Google's Nexus 9 was released on November 3rd, and we've seen a few good deals since then. The first deal arrived the day after its release, and even Best buy offered it for $100 off in the form of a gift card at one point. Today though, Best Buy is beating all the deals we've seen lately, and has sliced the price tag of the Nexus 9 and its accessories.
Read: Nexus 9 Setup Guide: Steps to Get Started
Back in December Amazon dropped the Nexus 9 price for buyers, and we saw a similar deal from them in January. Offering Google's impressive Nexus 9 tablet for $50 off. That deal is long gone though, but for those still looking to snag a Nexus 9 without paying full price, we have all the details for you below.
This afternoon Best Buy started sending out emails offering a rather enticing deal for the Nexus 9. Starting today, and for only four hours, they have chopped $100 off the Nexus 9 tablet, not to mention discounts on official accessories too. That means you can get the 16GB Nexus 9 for only $299 rather than $399, and the 32GB model is only $379 instead of $479. This isn't a gift card, a rebate, or anything, this is an outright $100 off price. Making it the best deal we've seen yet.
That isn't all either. Best Buy is offering $10 off the official Google Nexus 9 cover, and $32 off the expensive Keyboard Folio Case that's currently available on the Google Store for $129.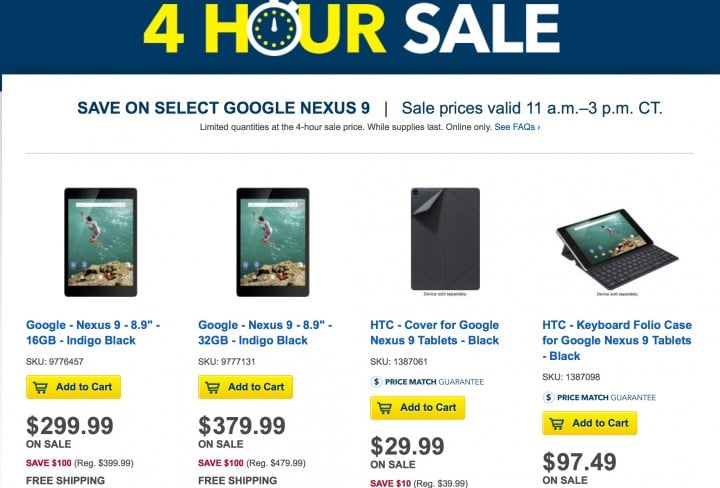 As you can see above, both tablet variants (in black only) and the two official cases are all on sale at Best Buy, and from BestBuy.com, but the deal won't last long. This is only a four hour deal, so you'll have to hurry and decide if it's right for you, and snag one up before it ends or they're all gone.
This deal is available in stores, but if you order online you'll also get free shipping on purchases over $35. Which covers everything but the Nexus 9 cover shown above. However, the deal also cuts $5 off the Google Chromecast, which is a great device and a decent little discount, which is a perfect accessory to get with the Nexus 9.
Read: Best Nexus 9 Accessories
Google's new Nexus 9 is the first tablet from HTC in years, offering a new 4:3 aspect ratio similar to iPad's vs the long and skinny look of all previous Android tablets, and is one of the better Android tablets available today. Here's a recap of the specs for those considering this well-rounded tablet.
Nexus 9 Specs
8.9-inch 2048×1536 Full HD display (4:3 aspect ratio, and Gorilla Glass 3)
NVIDIA Tegra K1 processor with 2GB of RAM (64-bit)
16/32GB storage configurations
Android 5.0 Lollipop (now Android 5.0.1 Lollipop)
8 Megapixel Rear and 1.6 MP front camera
Brushed Aluminum frame, soft touch matte design
Dual HTC Boomsound front facing speakers
6,700 mAh battery
White, Black, and Sand color options
228.25mm x 153.68mm x 7.95mm and 425 grams
The Nexus 9 has plenty to offer, especially while at a discount. This is the best price we've seen in a while, so those considering it may want to jump on this while it's still available. That, and the four hour flash sale also includes a few good Chromebooks at a discounted rate as well.
Again, the deal only lasts for about four hours, so you better hurry if you're looking to snag the Nexus 9 while it's at such a great price. We've yet to see the latest Android 5.1 Lollipop update hit the Nexus 9, but it should be here soon enough and address a few problems we've heard some owners are having. Don't let that stop you, get this Nexus 9 deal before it's too late.