Hulu Plus No Longer Supports the Galaxy Nexus
It another piece of bad news for owners of the Samsung Galaxy Nexus – in addition to the Google Wallet and battery life problems, it appears that Hulu has gone ahead and dropped support for the first 4G LTE Nexus device. We heard from a few people this morning that the application no longer offered support for the device and we've now confirmed this to be the case. Other sites are confirming the same thing.
So, what happens when you try and open up the application?
Exactly what you see in this here screenshot.
The odd thing is, the application was working perfectly fine earlier this week which makes this pretty darn suspicious. Hulu hasn't said anything and we are currently stumped as to why the application has lost support for one of Verizon's most popular devices.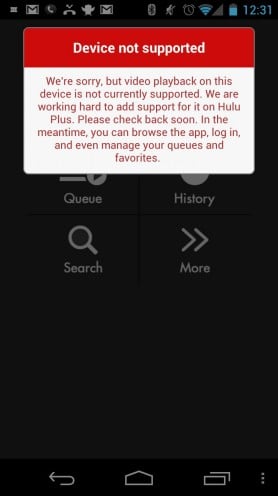 Obviously, we're hoping that this is just temporary and not a long term issue because Hulu is one of the applications that's able to take advantage of the Galaxy Nexus' 4G LTE speeds.
This issue comes amidst several issues that the Android 4.0-powered device is facing including complaints from owners about battery life, weak signals – which will be fixed with an update, and the fact that Google Wallet does not work with the phone's NFC chip.
The last thing that the Galaxy Nexus needed was another black eye but it appears that that has happened.
We'll update you on the situation when more information comes to the surface. But at this time, you're going to have to live without Hulu Plus on your Galaxy Nexus.