I Want A Smartphone That Ages Like Betty White
With the fast pace of technology, it is hard to find a phone that will last a year — let alone two years without letting you down.
Android phones are especially bad at this with new "super" phones coming out every other week. But some devices age worse than others. For example, the HTC ThunderBolt doesn't need the Galaxy Nexus to make it look bad. The ThunderBolt has aged worse than Charlie Sheen.
Which leads me to my point. I want a phone that can stand the test of time. A phone so good I could hold on to it after my two year contract expires.
I want a phone that ages like Betty White.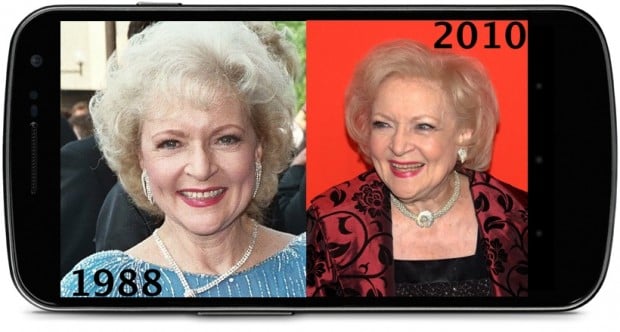 Seriously. Have you seen Betty White? Take a look at her in the Golden Girls. Now take a look at Betty White today in Hot in Cleveland. Sure, she has aged a little bit, but she's still a hot commodity and full of pep. Betty White transitioned from a dead end role of playing an old person in Florida to playing a linebacker in a Snickers commercial and parlayed all of that into a role as a housekeeper in Hot in Cleveland. Sure, she's playing an old person, but Betty White is 89 and still killing it. She even got invited to the Marine Ball.
So what does this look like in a smartphone?
Timeless Design — Apple has been able to pull of a design that stand the test of time with the iPhone 4 and iPhone 4S. On the Android side, the Nexus phones do a good job of filling this hole, but too many phones don't have the looks to be appealing on a year let alone two. If Betty White can do it, so should smartphone makers.
Future-Proof Specs — Betty White has a sense of humor that makes her hard to pass over despite the years. When it comes to phones, we need to look for the right set of features. Specs aren't a deciding factor for most users, but phones still need the power to age gracefully. Without good specs, you wont be able to get all the good updates.
Updates Galore — Betty White didn't need to go out and have plastic surgery to remain popular. Just like I don't always need a new phone. What I do need is a constant updates to keep the phone fresh, just like White keeps things fresh with new characters.
Next Gen Network — Finally, my dream phone needs to work on the latest networks and have the stamina to last a whole day, kind of like an 89 year old Betty White rocking SNL without the need to recharge.
What do you say? Are you ready for a smartphone that ages as well as Betty White?
Original Betty White photo by Alan Light (1988) and David Shankbone (2010)

As an Amazon Associate I earn from qualifying purchases.