ICD Ultra tablet gets late night talk show love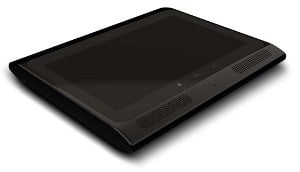 Engadget's Joshua Topolsky was on Late Night with Jimmy Fallon showing off a bunch of gadgets, including the ICD Ultra, a tablet device with a 7″ screen powered by NVIDIA Tegra and running Android. It's finally making an appearance after being mentioned in passing some months ago.
Spec-wise, it's darn near the same as the Vega but reduced in size and storage (and presumably power). Full listing on the ICD website. Design is a bit different as this one is not built with a dock in mind. Touchscreen is resistive, but Engadget reports that capacitive versions are in the works. Projected price is in the $249 range with potential for full subsidization. I'll wait and see on that, but it looks pretty darn good in Josh's and Jimmy's hands. Hit up Engadget for the video clips.