Ice Cream Sandwich Offers Up to 66 Percent Better Performance on HTC Vivid on AT&T
Owners of the HTC Vivid on AT&T's 4G LTE network will notice that the newly pushed out Android 4.0 Ice Cream Sandwich software update will boost the performance of their devices by as much as 66 percent. The smartphone was originally released with Android 2.3 Gingerbread, and VentureBeat benchmarked performance of the Vivid using Gingerbread and compared the results with Ice Cream Sandwich and noticed that the newer Android software, while delivering more functionality, is more efficient at handling common tasks.
Android 4.0 Ice Cream Sandwich was originally launched on the Samsung Galaxy Nexus. When that device came out, it debuted with the software preloaded so providing a benchmark test was difficult as the same hardware cannot be used to evaluate performance of Gingerbread versus that of Ice Cream Sandwich. Now that Ice Cream Sandwich is beginning to become available from manufacturers–like Samsung and HTC–for older phones that were originally released with Android 2.3 Gingberbread–like the HTC Vivid and Samsung Galaxy S II–creating a comparison benchmark by using the same hardware is now available.
VentureBeat used Browsermark, Sunspider, Quadrant, Linpack, Basemark and Nenamark tools to benchmark performance of both operating system versions on the HTC Vivid hardware.
With Sunspider testing for Javascript speeds, the Vivid's Android 4.0 performance showed incredible gains against Android 2.3, giving the device a 66 percent boost in performance.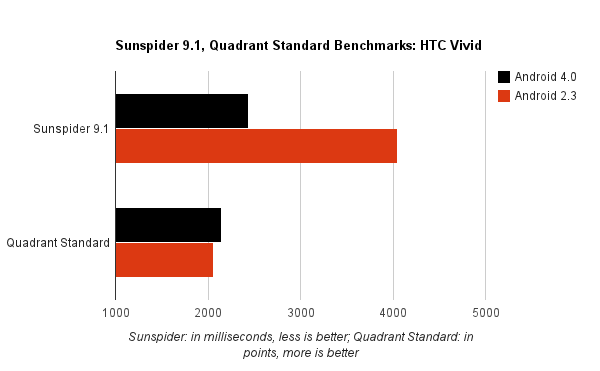 The Quadrant and Linpack tools show no noticeable gains for Android 4.0, and the site credits these two tests for being hardware intensive, meaning that very little on the software side will affect the scores here.
Browsermark, which tests web performance, shows that Android 4.0 scored a 24 percent gain.
And Nenamark, which tests for graphics performance, shows a 20 to 41 percent increase in performance with the new OS.
Additionally, battery life was also improved with Android 4.0 using Basemark.