iDEN Push-to-Talk Riding Off Into the Sprint Sunset at End of June
Users who are on the Sprint Nextel network and are using the iDEN side of things for push-to-talk will have until the end of June to migrate their service as Sprint will be shutting down the iDEN network on June 30th. iDEN's push-to-talk had been a strong selling point for Nextel and new owner Sprint in the past, and was part of a series of comical Boost Mobile commercial (Sprint owns the prepaid Boost brand), however in more recent years consumers have largely moved their messaging needs to more data-centric means, utilizing more 3G, 4G WiMax, and 4G LTE connectivity. iDEN remains a staple for many vertical markets who appreciate the instantaneous walkie-talkie-like service, which had set a gold standard for that industry.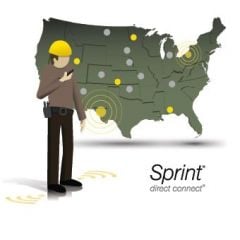 Sprint had subsequently launched a Direct Connect service on its widely available and stable CDMA network, which will offer iDEN capabilities and faster speeds. Though other carriers had tried to replicate the walkie-talkie functionality of iDEN on other standards, high latency had prevented those efforts from taking off, but it seems that Direct Connect's low latency will allow iDEN users pick up on Sprint where Nextel left off.
The carrier had warned that iDEN may shut down as early as June, and it looks like Sprint is on schedule in ending this legacy service.
Customers who migrate to Sprint Direct Connect experience three times the push-to-talk coverage compared to iDEN, international direct connect reach to Latin American countries, and 3G broadband data capabilities.

"Sprint Direct Connect is a gold standard in push-to-talk," Azzi said. "It comes with the broadband capabilities that businesses and public safety pros need for business applications, social media, and future push-to-X capabilities on Sprint's broadband CDMA network."
With the shutdown of iDEN, hopefully Sprint can be more aggressive about its LTE rollout plans as the spectrum that iDEN uses can be re-purposed for 3G and 4G LTE use.
There are a number of Direct Connect push-to-talk phones currently available on Sprint at this time, including smartphones and feature phone. The most recent smartphone to launch is the Kyocera Torque, a rugged Android smartphone that also supports Sprint's faster LTE network.
Unlike Sprint's other LTE wireless competitors, the Now Network uses a multimodal tower infrastructure that allows spectrum to be more efficiently managed. For example, LTE on rival carrier AT&T is locked to a specific spectrum. Not so on Sprint as the network and the phone will determine which spectrum and band would be appropriate to handle the call. This allows any spectrum that Sprint owns or leases to be used for any type of connection, including 2G, 3G, or 4G LTE.