iPhone 5 Teardown Reveals a More Repairable iPhone
We Geeks like to see iFixit tear down all the latest gadgets and they already did so with the new iPhone 5, showing off the guts of Apple's new flagship handset calling it "the biggest thing to happen to teardowns since teardowns."
The best news to come out of the video is that the iPhone 5 is easier to repair.
My favorite line from the iFixit iPhone 5 teardown video is, "it lost some baby fat" describing how the iPhone 5 thinned down and got lighter.
The iFixit folks, who already tore open a pair of Apple's new EarPods, claim it's more reparable since all the person needs is a pentalobe screwdriver and a suction cup to remove the display. The iPhone 5 will only take a few steps compared to 38 for the iPhone 4S. It also only takes a few minutes compared to nearly an hour with the previous generation.
The video also shows that Apple replaced the old 30-pin connector for the smaller Lightning connector out of necessity since "… there's no way they could have crammed a 30-pin dock connector in the iPhone 5. There just isn't enough room" due to its thinner body.
After tearing down their iPhone 5 purchased in Melbourne, Australia a full day before we can get one here in the U.S., the folks at iFixit give the new iPhone 5 a repairability score of 7 out of 10, with 10 being the easiest to repair.
Apple replaced the glass back, which hopefully means iPhone 5 owners won't need to repair the iPhone as often. However, If someone drops their iPhone 5 it looks like Apple made it easier to fix for their own technicians at the Apple store and for those of us who don't mind cracking open our expensive gadgets.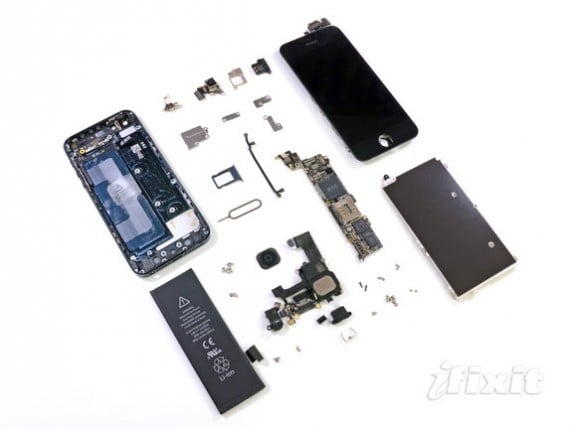 The iFixit teardown shows us some of the details of the battery powering the larger display and 4G LTE wireless data. Apple includes a battery using more voltage and more capacity with 3.8V, 5.45Wh and 1440mAh. That should provide users with up to 8 hours of talk time and 225 hours while its sleeping.
The iPhone 4S offers a lower voltage (3.7V), watt hours (5.3Wh) and total power (1432mAh). iFixit compares this to the other hot phone out now, the Samsung Galaxy S III which inclues the same voltage as the 5 but 7.98Wh and much higher capacity 2100mAh.