iHome iDM12 Rechargeable Bluetooth Speaker Giveaway
I reviewed the iHome iDM12 Rechargeable Bluetooth Speaker earlier this spring. The iDM12 provides good truly wireless sound for hours thanks to a battery recharged through your USB port. It connects to your Bluetooth enabled audio device like a smartphone or computer filling a small room with sound. The charging cable also includes an auxiliary stereo jack so that non-Bluetooth audio devices work with the speakers too.
What You'll Win
Be sure to check out the review for the full details, but I've pulled the most important bits into this post so you can decide if it's worth tweeting to win.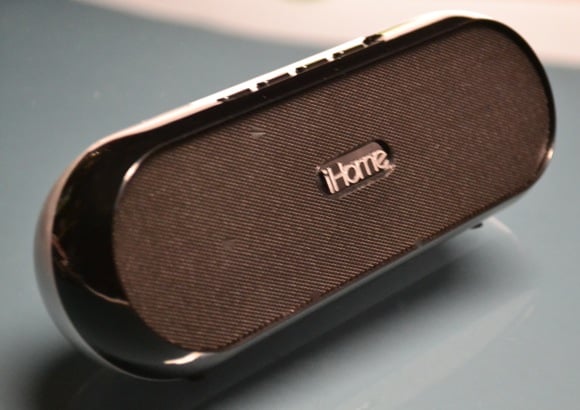 The primary concern for any speaker system is sound and the iDM12 delivers so long as you are not looking for something to replace your multi-thousand dollar sound system. We tested the speakers out playing everything from video to various kinds of music and spoken word podcasts and books. All of them sounded decent considering the small size. The iDM12 has two active speakers and one passive radiator powering the sound, which is quite loud

…

The Bluetooth connections were solid. I tested the distance and you can see in the above the pictures of the iHome outside my house how far I got from the device before it started to drop signal. Also, I took my phone into another room and the connection to the speakers stayed strong through one wall. Two walls caused it to drop signal.
How to Enter
You can read the review and decide if it is worth Tweeting to win because we are giving this sample away. In order to win just follow @GottaBeMobile and me @kapurcell. Then tweet the following:
I entered to win an iHome iDM12 for free from @GottaBeMobile and @kapurcell. You can enter too here: https://wp.me/plEsg-ggT
I'll pick a random person on Sunday, July 30 after noon Pacific. You only need to tweet the above once to enter.
Open to U.S. residents over the age of 18 only. Please check your local laws and regulations before entering. Winners will be chosen on Monday July 30 at Noon EDT and notified via a Twitter DM.

As an Amazon Associate I earn from qualifying purchases.