I'm Not A Watch Guy, But I'm Buying the Pebble Watch
I had to clear out quite a few cobwebs in my head before I could recall the last time I wore a watch. I believe I was 10 years old at the time and my Dad bought me a watch from the Jungle Cruise gift shop at Disneyland. I wore it for maybe a month and that was the end of my watch wearing days. That is, until later this year when the Pebble Watch for iPhone and Android arrives.
For those that don't know, Pebble is an e-paper smartwatch that has seen record funding on crowd-funding site, Kickstarter.
When we first wrote about it, the watch had around $100,000 in funding.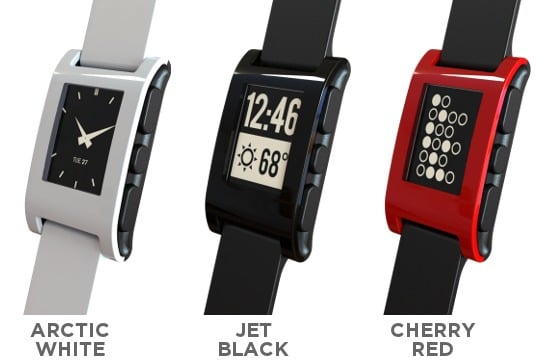 It now has nearly $5 million.
And it's easy to see why.
It offers a gorgeous looking screen, a waterproof design, and great battery life, but above all, it connects to iPhone and Android devices through Bluetooth.
This means that it can not only display notifications from the phone, text notifications are currently absent when used with the iPhone, but it can perform a host of other tasks as well including:
Cycling – Display speed, distance and pace on the watch while biking with a smartphone.
Running – Check time and distance while running with the Pebble and a smartphone.
Music Control – Play, pause and skip tracks in many music apps with Pebble.
Golf Range Finder – The Pebble will connect with Freecaddie to deliver range finding on 25,000 courses.
That's not even the best part.
The developers are going to be releasing an SDK (Source Developers Kit) that will allow for other devs to build out applications for the watch.
I honesty can't wait to see what people come up with.
While I'm not a watch guy, I've been in the market for a smartwatch for awhile. My smartphone is attached to my hip and I've always wanted a watch that can do more than just look good and tell time.
I've looked at the MOTOACTV, too expensive.
I looked at the Sony SmartWatch, too many limitations.
I even took a close look at five other options that we listed here on GBM.
Nothing impressed me. And then I stumbled upon the Pebble. Needless to say, the Pebble impresses me.
It has an affordable $115 price tag.
It comes with an expansive set of features and a bright future with that SDK.
I can track my exercising. It helps me stay organized. And I can adjust my music. Things that I've wanted my watch to do since I was a 10 year old kid.
Oh, and it looks good too.
A timepiece always has to look good, right?
I don't know. I've never been a watch guy.
But I will be soon.
The Pebble Watch will be out in September of 2012, assuming everything goes according to plan.