Images of HTC Incredible S Leaked as Verizon Incredible 2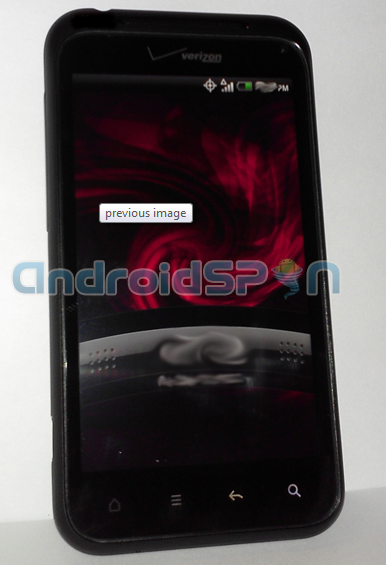 It looks like the HTC Incredible S, which was announced at Mobile World Congress, will be making its appearance Stateside as the Verizon Wireless HTC Incredible 2. The largest U.S. carrier had carried the original HTC Incredible as part of its Droid brand.
Based on the specs and leaks on AndroidSPIN, it appears that Verizon Wireless is currently testing the device with HTC Sense on top of Android 2.2 Froyo, but the carrier won't be launching the HTC Incredible 2 until the Android 2.3 Gingerbread upgrade is available. The Incredible 2 boasts some specs improvements from the original device, including a larger 4.0-inch Super LCD display with a WVGA resolution, an 8-megapixel rear camera with flash and front-facing camera, and newer 1 GHz Qualcomm CPU; the original Droid Incredible was initially launched with a 3.7-inch WVGA AMOLED display, but HTC later switched to LCD due to a worldwide shortage of AMOLED displays.
The hallmark of the Incredible series of smartphones is the topographical back battery cover, which features sort of an "inside-out" approach to give the phone a geeky appearance of 'revealing' its innards, though it did not feature a see-through cover.
It looks like the Incredible 2 will slot right under the HTC Thunderbolt 4G, whenever that phone will launch. The Thunderbolt features a larger 4.3-inch display, but also comes with support for Verizon's faster 4G LTE network, which promises mobile broadband speeds up to 10 times the speeds of the carrier's 3G network, which the Incredible 2 will support. HTC may be following Motorola in releasing a 4G flagship smartphone and a 3G smartphone with comparable specs; in Motorola's case, the phone maker is rumored to be releasing the Droid X2 as a 3G alternative to the Droid Bionic, which we saw at CES.