In-App Subscriptions Opens the Doors for Android
In a blog post to developers, Google announced that the Android platform now supports in-app subscription, which will allow developers to more easily monetize additional content and services to users. This would allow developers to continue to build and expand existing apps and automatically charge users for new features.
Google says that developers can set the price and billing intervals for subscriptions, and users will be able to see clearly how subscriptions and in-app billing works when they check out:
For users, Google Play provides a familiar and convenient purchase experience, highlighting subscription details such as price and billing interval before continuing with purchases. After the transaction, Google Play manages recurring billing and keeps users informed of new charges, sending them an email with each renewal. At any time, users can visit My Apps in the Play Store app to view their subscriptions and cancel any subscription as needed.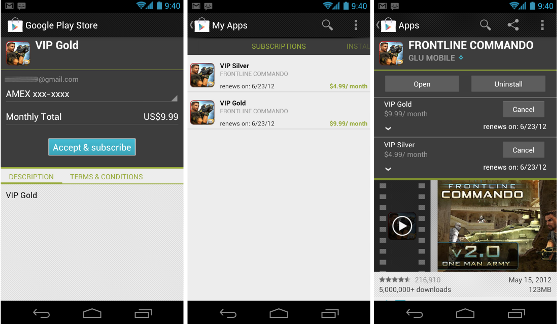 In-app subscription may help Google take on Apple in the digital magazines and periodicals space in the future as well. Google already competes with Apple's iOS App Store in the areas of movies, music, apps, and ebooks. Still missing are newspapers, magazines, and other periodicals that can now be enabled through in-app subscription billing.
Google expects several apps to launch with in-app subscription in the coming days and that more apps will follow in the future.
In the coming days, several developers will be launching apps with Google Play subscriptions and we expect many more to follow. Glu Mobile is launching updated versions of its top Android titles, including Frontline Commando, offering subscriptions through custom VIP currency packages. "We're using Google Play subscriptions to offer consumers a compelling value and a single currency which they can use across Glu's most popular titles" says Niccolo de Masi, CEO of Glu. "We're excited to bring these capabilities to our Android users and we believe that Google Play subscriptions will fuel further growth in our business."
News of in-app subscription follows the launch of in-app billing several months ago on the Android platform. In-app billing initially debuted on Apple's iOS platform and offered a lot of flexibility. First, in the area of travel guides, for example, rather than have individual apps for each individual guide for differing cities, now users can just have one app and can purchase and download new guides as they become available within the app. This eliminates screen clutter and the need to organize and maintain folders. Second, this method would allow for freemium titles to be released where the basic app is free and users who want more advanced tools, additional levels in a game, or more features can pay to add them and unlock the expanded capabilities.

As an Amazon Associate I earn from qualifying purchases.