In-Depth Hands-On: HTC One X and Sense 4.0 (Video)
HTC grabbed everyone's attention yesterday with the announcement of their new HTC One line of smartphones at Mobile World Congress. The HTC One X, One S and One V share many features and specs with slight differences in design and elements, such as the camera.
If this sounds familiar, it's what Samsung has done with their Galaxy S line. Good on HTC for recognizing the value in this strategy.
I spent some time with the One series phones this morning. So far I'm impressed, particularly with the One X and with HTC Sense 4.0. Watch the hands-on video below for demos of Sense, the camera app, and the smartphone's music chops.
(Read: HTC Unveils the HTC One Series)
Design and Hardware
The three One Series handsets look similar, but not exactly the same. They all retain what's usually good about HTC design — simple lines, comfortably curved edges, and solid, sturdy metal feel. Even the HTC One X, which is thinner and lighter than the HTC Thunderbolt, still feels solid and substantive in the hand
The One X is the flagship of the bunch and packs all of the high-end goodies the One Series will likely be known for soon. Chris has all the details and specs in his post, but of particular note is the 4.7-inch display and 8MP camera on the back.
HTC went with a white and silver color scheme for this model that looks nice but also means it'll show dirt easily. It's 0.35-inches thick and weighs just 4.6 ounces, so even with the larger display you're getting a light phone that easily slips in a pocket.
The display in question has a 1280 x 720 resolution packing into 4.7 inches which means high pixel density, crisp fonts, and nice HD video viewing. That will come in handy when viewing images from the camera, which I'll get into in a bit.
As Chuong reported, the processor inside the version we'll get in the U.S. (on AT&T) is not the same as the one in the global version. Overseas owners get a Tegra 3 quad-core CPU whereas we have to settle for a Qualcomm Snapdragon dual-core. This isn't a major hardship and the phone appears to run just fine. It's just knowing what could be…
The reason for the difference is that Tegra 3 doesn't work with LTE network chips. Until it does, no LTE + quad-core Tegra. Overseas they have to settle for 3G.
Whether dual or quad-core, the One X gets 1GB of RAM.
Though there's a generous 16GB of internal storage, the One Series phones don't get a micro SD expansion slot, which may disappoint many who like to keep media stored on their handsets.
Moving down the line, the HTC One S has the same specs as the One X except it has a smaller display — 4.3 inches — and will run on T-Mobile's HSPA+ network. The design is similar to the One X, though the color scheme is darker.
One thing to note here, and on all the One Series handsets, is the difference in buttons below the display. Instead of Menu, Home, Back and Search there's Back, Home, and Recent Apps. It almost makes them look like Windows Phone devices.
Last is the HTC One V, which represents the "low end" of the One Series, though it's by no means a cheap-looking, cast-off phone. The aluminum unibody design has a slight chin on the bottom that doesn't appear to serve a practical purpose. However, it's reminiscent of the first Google Nexus phone (designed by HTC).
Hardware differences are small and include a 5MP camera, not 8MP and a 3.7-inch display. Though they haven't announced pricing, I suspect that the One V will appeal to the budget-conscious and people who don't think they want a superphone, just something small and simple. They'll get a pretty powerful device, nonetheless.
U.S. Cellular, Virgin Mobile, and Metro PCS users will get this HTC One phone, which again leads me to believe it won't cost a lot.
I like the darker color scheme — I'm partial to black and gunmetal gray, myself. However, the chin bit at the bottom just looks extra and unnecessary.
All three handsets have a USB Host enabled micro USB port, which means users will be able to connect them to USB accessories and to an HDTV or monitor with the right adapter.
HTC Sense 4.0
These are the first three phones to launch with the new version of HTC's Sense. Of all the Android skins out there, Sense is one of the best. (Only Samsung's TouchWiz comes close.) As much as I like Android 4.0 Ice Cream Sandwich, it doesn't always put important elements and functions right at your fingertips. Sense excels at this.
The biggest differences I noted during my hands-on time were how the One Series handles Recent Apps and Widgets. Plus the aforementioned hardware buttons.
Sense dispenses with the on-screen Home, Back and Recent Apps soft buttons to give back the pixels they steal. This is particularly welcome on smaller screens like those of the One V and One S. I know some of you will scream in horror at this indignity, but some of us appreciate real buttons.
Widgets are no longer integrated into the app drawer. Instead you access them the same way you do in Android 2.x, by tap and holding on a Home screen. The widget browser is ICS and does give a sense of how much space it will take up and how it looks before you place it.
HTC also added a drop-down menu so you can scroll and find available widgets that way. The list will also tell you where the widget comes from so you won't get confused if you want to add the HTC calendar widget, not the Google one. Know the widget you want but don't feel like scrolling through the hundreds available to you? Then search by name.
HTC also reskinned the Recent Apps list. Now instead of small thumbnails stacked on top of each other you get larger previews in a card interface. To close an app just swipe up.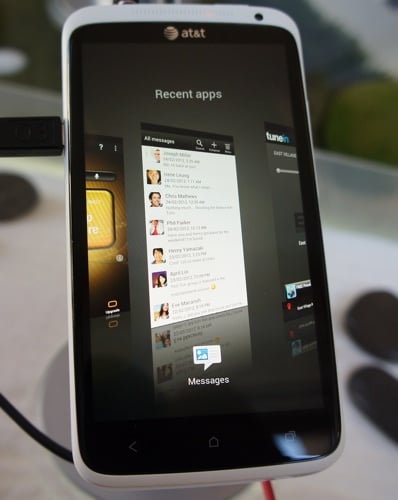 Sense widgets we know and love get an update for performance and looks but remain mostly the same. The giant clock + weather widget has a new style, and there are even more clocks to choose from. Whoever loves the time over at HTC is still working there, apparently. I really like the picture frame app which has an animated mosaic of pictures you can choose from (including album art).
Camera
MegaPixels aren't everything when it comes to the camera. You also need a good sensor and a robust app to back it up. HTC put both in the One Series phones. All three include ImageChip technology that makes even the most casual photographer able to take great pictures in many conditions.
Users get a long list of settings ranging from white balance and scene choices to ISO and exposure, just to name the big ones. You can also take pictures in rapid succession by tap-and-holding the shutter icon. Plus, the camera can take still shots while it records video.
The showroom we were in had excellent lighting so it was hard to see how well the camera did in low-light situations. Still, the pictures and video I took looked crisp and didn't have discernible noise. Shutter and autofocus are also really fast.
I like that you can edit images right on the phone and even apply filters before or after taking the picture.
Watch the hands-on video above to see the camera in action.
Music and Beats Audio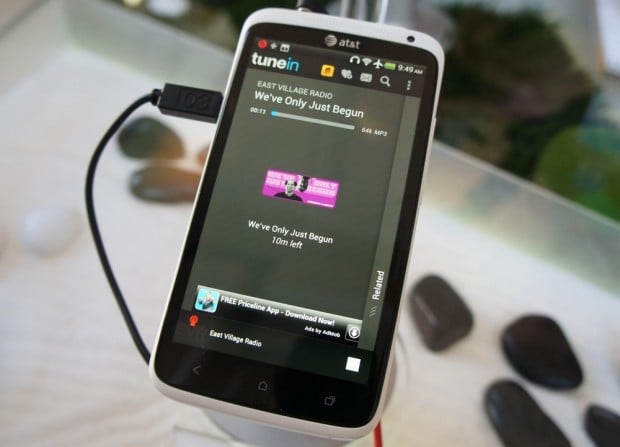 Back when I reviewed the first HTC phone with Beats Audio, the Rezound, I expressed severe disappointment that the Beats Audio enhancements only worked in the stock Music and Video apps. I wasn't the only one. HTC must have listened because that's not the case on the One Series.
Beats Audio's EQ enhancements will kick on whenever media audio plays, whether it's in the music player, an Internet radio app, or on YouTube. It's still a set of equalizer settings rather than a truly fundamental change in audio, but it does produce nicer audio than the average Android device.
Though these phones don't have the same music-centric push as the Rezound, HTC takes the music experience seriously. Their music launcher provides one screen where a user can access all of their music apps, be they for playing tracks on the phone locally or streaming from the web. The music Home screen widget also incorporated SoundHound so you can identify and tag a song to download later.
Does HTC Have A Hit?
HTC had a rough year in 2011 and are clearly looking to make up for it in 2012. The One Series is an excellent step in the right direction. The real test will be when they launch and we see if the software runs as smoothly as the demos we saw today. Battery life is also a big concern, especially for the HTC One X due to the large display and LTE radio.
As for the design and HTC Sense 4.0, I see a lot to get excited about.
The company won't talk about a release date or pricing yet, though Best Buy is taking pre-orders (no sense in waiting, right?). HTC also won't talk about any other carriers, so Sprint and Verizon customers will just have to wait and pout. As soon as these phones hit the U.S. we will get them in for review.