Infinity Blade: Dungeons on Hold as Epic Closes Impossible Studios
Eight months after opening Impossible Studios and giving the team control of Infinity Blade: Dungeons, Epic Games announced it will close the studio and put the game on hold.
Epic handed over development of Infinity Blade: Dungeons to Impossible Studios after the company helped from the studio made of form Big Huge Games employees.
Today Epic Games Founder Tim Sweeney wrote "It was a bold initiative and the Impossible folks made a gallant effort, but ultimately it wasn't working out for Epic."
Epic Games will give Impossible Studios employees 3 months of severance pay, and let them reform a new studio with the same name "and the awesome Impossibear logo." The new studio, if there is one, won't work on Infinity Blade titles, however. The theoretical studio would work on whatever games its employees want to create.
The new means that Infinity Blade: Dungeons, which Epic Games showed at the launch of the third generation iPad last year, is now delayed. Epic will try to "figure out the future of the project," but Sweeney didn't mention any specifics about the title. The game may return to another studio in Epic, or the company could try to get another outside developer to finish the project.
Infinity Blade: Dungeons is a dungeon crawler more akin to games like Diablo, Path of Exile and Torchlight than the epic sword fights of Infinity Blade 1 and 2. The footage Epic Games showed of the game last year showed a hero fighting several enemies at one time using a series of swipes and gestures to execute different attacks and abilities.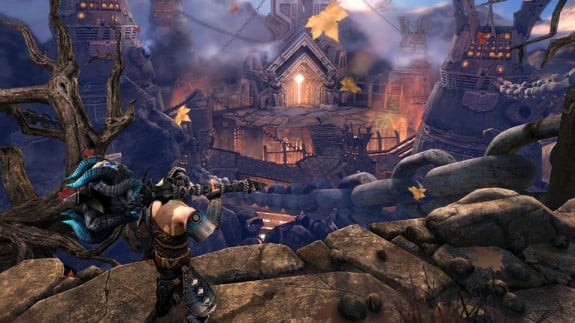 The dungeon crawler will tell the story of the forging of the Infinity Blade, making it a prequel to the other games. Now it looks like iOS gamers will have to wait a long time to learn the secrets of the legendary sword's forging.

This article may contain affiliate links. Click here for more details.