Instagram for Android Review (Video)
After an excruciating wait, Instagram for Android has arrived.
The Instagram team took their time porting the popular iPhone app to Android, and it has paid off. The app looks and feels like it was made for Android and runs great on the Galaxy Nexus. Instagram is available for free from Google Play.
You may wonder why Android users, whose phones have notoriously bad cameras would want to apply filters, but in my experience I prefer to apply filters to my Android taken photos so they look intentionally lo-fi. Or at least artistic.
[Download Instagram from Google Play]
Instagram for Android Review
Here is a hands-on look at Instagram for Android and a walk-through on how to use the app to capture, filter and share photos.
Performance
The Instagram experience on Android is much like on the iPhone, with the same basic sets of tabs that define the app. I spend most of my time on the home tab and the news tab, which is where friends' most recent photos, news about those I follow and my posted photos live.
The app is very responsive, and has not crashed on my Galaxy Nexus. I had to re-upload photos on multiple occasions, but I believe that was due to poor wireless coverage in some areas.
Taking Photos with Instagram for Android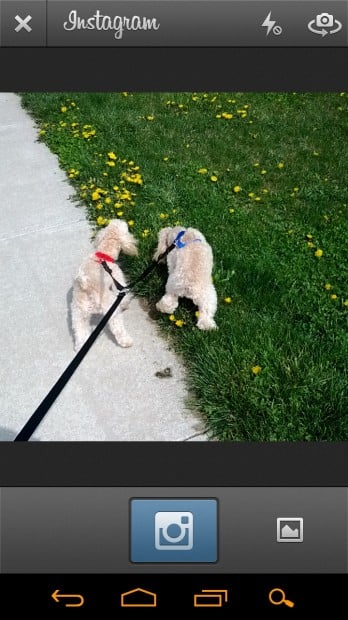 The Instagram app can take photos, or users can use their phones' built-in camera app to shoot before applying Instagram filters and sharing them.
I recommend shooting photos with the stock camera app and applying filters later if you plan on sharing several photos of an event or activity. The process of finding the right filter and sharing each photo can get annoying if you are trying to capture a lot of shots in a short period of time.
If you are taking your time, and plan to apply filters as you take the photos, the Instagram app provides a decent in-app camera experience. The flash can be toggled on/off and it's easy to switch between the front-facing and rear-facing cameras. There is no zoom, but that's not a bad thing considering apps that do have zoom just pixelate pictures by cropping and enlarging.
Filters and Sharing
Android cameras aren't known for their high quality, but the filters help out here. You might joke about making crappy photos look crappier, but I'd rather share a photo that's been "Instagram'd" than an ordinary shot taken with my Galaxy Nexus.
After using Streamzoo for the past month I miss the ability to change the focus and tilt-shift photos. As much as I like Instagram, the lack of this feature is disappointing.
After applying filters, Instagram users can choose where to share photos. Photo are automatically shared with users' Instagram followers and can also be shared to Facebook, Twitter, Foursquare or Tumbler. Instagram users only need to login once to these services. After that setup, users just need to check the box next to the service they want to share a photo with. I like the ability to choose which photos I share where every time I share.
Conclusion
Instagram for Android has been a long time coming, and based on my time with the app, the wait was worth it.
Instead of a so-so port, Instagram has delivered an Android app that is worthy of the million downloads it received in the first 24 hours.
Many Android apps that come over from iOS lose their look and feel, but Instagram maintains everything users loved about the iPhone version, with a few tweaks for the Android OS.
Hopefully we'll see the ability to tilt shift or change focus on Instagram photos in the near future, even if it comes as an in-app purchase.
Follow me on Instagram – Joshnotebooks
Sample Instagram for Android Photos

As an Amazon Associate I earn from qualifying purchases.