Intel Haswell to Make Apple's MacBook Pro With Retina Display Even Slimmer
While Intel has been touting the performance gains behind its fourth generation Core processors, known as Haswell, it's the chip's long battery life feature that may be of note to Ultrabook consumers. Apple, which makes a slim line of MacBook Pro with Retina Display notebook, may be able to shave down the thickness of the premium laptop's design while providing customers with better battery life thanks to the power efficiency of Haswell.
For consumers, this means you'll get more CPU and GPU performance, the latter of which is delivered through a stronger Intel HD 5000 integrated graphics engine, longer battery life that delivers the dream of all-day computing, while at the same time shaving off thickness and weight from your laptop bag.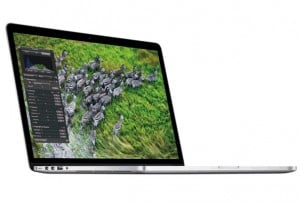 Apple's MacBook Pro with Retina Display plans are still not announced yet, but KGI Securities analyst Ming-chi Kuo, who has enjoyed a fairly accurate track record for predicting Apple launches in the past, is speculating that the Jonny Ives-designed notebooks will get a refresh at Apple's WWDC conference this month. Kuo's speculations were published by 9to5 Mac.
Intel had recently announced that Haswell allows computers to run up to 50 percent longer on the same charge. The news was made public at the Computex trade show. Apple boasts that its MacBook Pro systems can run up to seven hours on a single charge, so with a swap to Haswell, Apple could deliver a laptop that runs up to 10 hours on a single charge with the same battery. Using a slightly smaller battery, Apple could deliver anywhere between the 7 and 10 hours of battery life on Haswell while being able to shave off the thickness of the laptop and some weight.
At this time, it's still unclear whether Apple would be willing to radically alter its MacBook Pro with Retina Display's design as the current design has been on the market for only under a year. More recently, Toshiba had debuted a KiraBook notebook with a Retina Display-like screen and a form factor that looks more like a MacBook Air, so Apple may be feeling competitive pressure from Windows OEMs as well as Google's Chromebook Pixel to refresh the design.
In addition to Haswell, Kuo says that a full HD FaceTime camera will be part of the upgrade for the systems while the MacBook Air lineup will get dual microphones with the second mic used to cancel out typing and keyboard noise while on a video or VoIP call.

As an Amazon Associate I earn from qualifying purchases.