Intel Makes Galaxy Tab 3 the Fastest Android Tablet
A report from GL Brenchmark suggests that Samsung may be switching from processors based on UK-based ARM Holdings' designs to Intel's x86 architecture on its newest tablet. Specs and benchmarks for what is believed to be Samsung's third generation and un-announced tablet series show the device running on a Clover Trail Atom processor made from Intel.
GL Benchmark shows that both the WiFi and the 3G variants of the Galaxy Tab 3 10.1 were clocked. The device is said to pack a dual-core Intel Atom processor clocked at 1.6 GHz with the company's Hyper-Threading technology for boosted performance. A PowerVR SGX 544 MP2 GPU was also present and the display has a standard 1280 X 800-pixel resolution and not the high resolution screen that's found on the Samsung-made Nexus 10.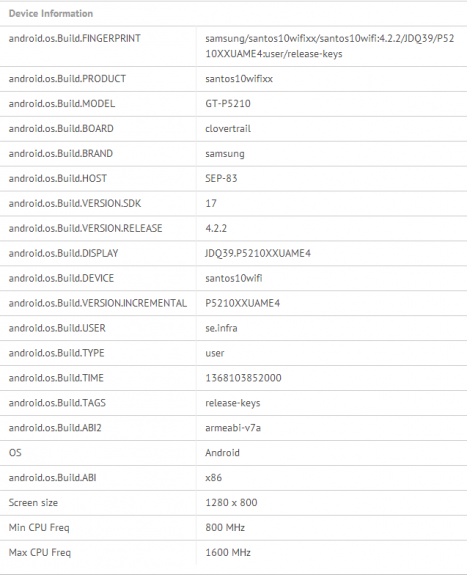 With a dual-core Atom processor, the device scored some impressive performance, making it competitive against quad-core ARM chips like the Qualcomm Snapdragon 600 and the Exynos 5 Octa processor. According to Sam Mobile, the Antutu benchmark score is "the highest score we have seen on any tablet device," and bests the dual-core Exynos 5 processor found on the Nexus 10.
As Samsung makes its own chips branded under the Exynos line that's used on the company's mobile products, it's unclear what strategic change the use of Intel's x86 processor will have on Samsung's future roadmap and ARM alliance. The move, however, if true, would be a major win for Intel, which is still struggling to gain foothold into the mobile space despite strong performance numbers from its Atom processor.
In addition to the Galaxy Tab 3 10.1, Samsung has announced a Galaxy Tab 3 7.0 and is rumored to be working on a Galaxy Tab 3 10.1 Plus, a device that's similar to the standard 10.1-inch slate but will come with a higher resolution display to match the one found on the Nexus 10.