Intel Promises Medfield Atom Android Tablet in 2012, Reveals Some Details
At the booth on the show floor of the IDF 2011 conference, I had spoken to several Intel representatives about the company's efforts to break into the Android market. Intel reps had revealed a couple interesting tidbits about the chip-maker's relationship with Google, its efforts with Honeycomb and smartphones, and plans for Medfield Atom-based Android devices in terms of performance.
According to those representatives, Intel is one of few companies that was given access to the Google Android Honeycomb source code–which Google has to this date not made public yet because the company is still optimizing Honeycomb for future phone releases–and it took Intel a few weeks to re-compile the code to make it compatible for its x86 architecture–the code was originally written for ARM chipsets. Moreover, one representative from Intel's Software and Services Group noted that security around Honeycomb was so strict that Google barred anyone at Intel from taking the code off of Intel's campus(es). If an Intel engineer had to work from home, that employee was prohibited from taking his work home on a memory drive and the employee must work remotely by logging into a remote desktop software to access his work computer that way.
As far as Atom for Android, Intel was showing off a prototype hardware running its Intel Atom 670 processor at the booth, based on the Oak Trail platform.
The company is promising that a 32 nm Medfield processor will be coming in 2012 that will deliver enhanced performance and lower power consumption. with Medfield, Intel says that the chipset will be able to both record (encode) and decode 1080p HD videos natively on the tablet. Currently, Oak Trail is limited to 720p HD encoding and decoding, according to one Intel engineer from the SSG group.
I had spent some hands-on time with the Oak Trail-based tablet, which was shown outside of the glass display, and Intel says that it has gotten Android to work with Atom for software acceleration, but not hardware acceleration. The two companies are working together to ensure that hardware acceleration will be optimized in the future to ensure smooth performance and graphics. Intel says that the embedded graphics on Atom would be used and that there won't be a discrete graphics option. That said, even with software acceleration, apps like Opera and Google Body work beautifully on the Oak Trail tablet, though there's a lot more to be desired with other apps and the performance of Android Honeycomb in general without hardware acceleration at this point.
The company was not specific as to when the Medfield chipset would be shipping, but promised that phones and tablets should start appearing with Medfield and Android in early 2012. With the 32 nm manufacturing process, a similar Atom processor was shown on a Windows 8 tablet as well.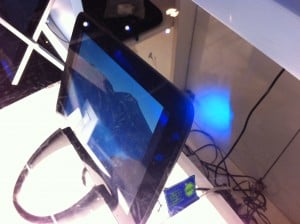 The Medfield prototype android Honeycomb was shown only behind glass running a slideshow of pictures. Performance seems good and the display looks very crisp and beautiful, similar to the smooth screen on the BlackBerry PlayBook tablet.
Speaking of Windows, a benefit, according to Intel, of having an Atom CPU is that it would give OEMs more flexibility to deliver multi-boot solutions. For instance, tablet-makers could deliver a tablet that could both run Android Honeycomb and Windows 8, for example, though that capability may be left to manufacturers or the hacking community to implement.
An interesting thing about power is that Medfield would be the first chip, according to an Intel rep, that would deliver comparable battery life to ARM-based chips today.